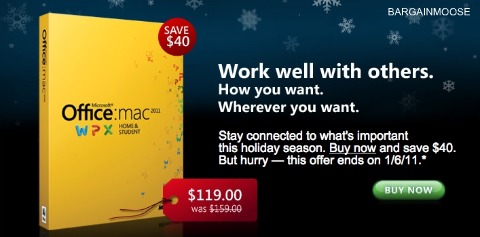 OfficeforMac is offering the illustrious Microsoft Office 2011 for Mac Home & Student edition for $40 off it's usual price of $159. It is the downloadable version off their website. I would suggest after you download it, back it up. I have recovered my 2007 version that way when the hard drive went on my laptop!
Now I know their are two camps, those who are against anything Microsoft ever touching a Mac. Then there are those who don't care or who are willing. I fall into the latter, primarily because Office for Mac makes my documents compatible with my teachers, and I can open powerpoints and other docs my teachers use in class. Thus, I honestly don't think I could uni. without it.
Offer Expires 6th, January 2011.