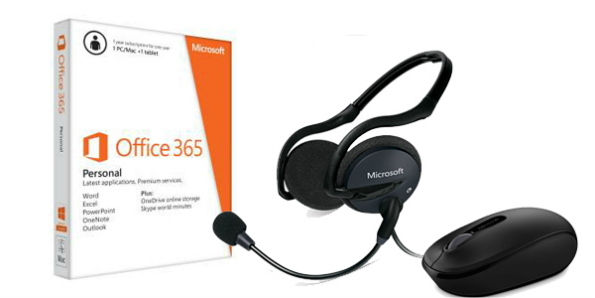 Microsoft Office is necessary just to function on a computer. If you need to write a letter, write a paper, view select online document, or do your homework... then you need Word. Excel is awesome for totalling sums (also known as adding things together) and keeping a budget. This Microsoft Office 365 Personal English with Wireless Mobile Mouse 1850 and LX-2000 Foldable PC Headset will give you the software you need with a bunch of accessories you want. Originally $99.98, the bundle is on sale for $58.90 with free shipping.
Microsoft Office 365 is a one-year subscription for a PC or Apple computer plus one tablet and one smart phone. The software comes with fully installed version of Word, Excel, PowerPoint, Outlook, OneNote, and more. You will also receive 1TB of storage on the cloud.
Not only do you get this software package, you will also receive a Microsft Wireless Mobile Mouse 1850 and the Microsoft LX-2000 Foldable PC Headset.
Price comparison:
NCIX.com is the next best place to buy this combo as it is currently on sale from $99.99 down to $59.99 there. Their sale ends tomorrow but it is a great alternative if Direct Canada happens to sell out.  I also found the Windows 365 plus mouse plus headset combo for $68 @ DBCS Computers Canada and for $99.98 @ Best Direct Canada.
I also think it is important to note that Microsoft Canada sells just the software - one year of Office 365 Personal - for $69. This bundle is $10 cheaper than Microsft's price for their own software and comes with a bonus headset and wireless mouse. The wireless Mobile Mouse retails for $15.95 there. The headset is no longer available for direct price comparison.
One reviewer at NCIX said
Awesome price for this little bundle. Mouse and headset were pretty good. Software works great. Great bundle to catch while on sale
I have to agree, this bundle deal is pretty hot when you think of all the bonuses you are getting for $10 under the original price for the software itself. The bundle was $99.98 from every website I can find that lists the original price, so you are saving just over 40% on your order.
(Expiry: unknown)