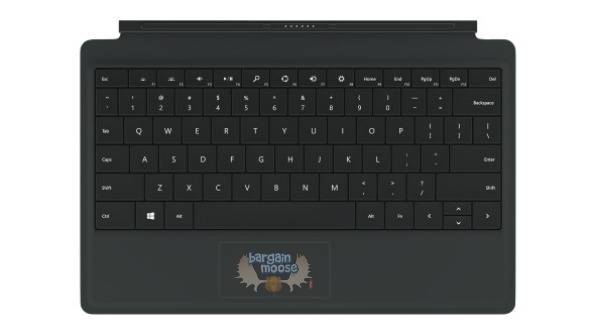 Today only, Microsoft has a great deal on their Surface type and touch covers, now $50 off. These rarely go on sale and I couldn't find an equivalent price anywhere. You'll also get free shipping on these from Microsoft.
If you have a Surface or are thinking about getting one, this is a deal that may pique your interest. These click-in keyboards have a variety of functions to make your life easier while using your Surface.
The first one on sale is the Type Cover 2, which was $129.99, now $79.99. It comes in four colours, in both French and English, including basic black or a fun purple. It is backlit so you can work in any type of lighting and has all the Windows shortcuts, function keys and media controls you need to navigate. Besides being a functional keyboard, it offers protection for your Surface against bumps and scratches. It has an overall 4-star rating, with the only complaint being the mousepad.
The second cover on sale is the Touch Cover 2. This one only comes in black and is now $69.99, regularly $119.99. It has all the same functions as the Type, with a lightweight frame that is spill-resistant. It doesn't have as good of reviews as the $10 more Type Cover 2, but they aren't bad.
The last and most expensive of the covers is the Power Cover, which also only comes in black. Not only a functional keyboard and cover, it also extends your battery life. This one was $199.99, now $149.99. The ratings say a lot about this cover, with an almost five-star rating:
I am using the Power Cover with the Pro 2 - and have to say I am delighted with the extra longevity. Here's my typical use case: schlep the tablet with the Touch Cover 2 attached and work that way - but keep the Power Cover in my bag and attach as needed. Works fine. The only (small) quibble is, given the extra battery life, it would have been nice to have the same backlighting as on the Type Cover 2 - but that said, this is an awesome peripheral for the Surface Pro !
I did price compare these covers and couldn't find any of them for less than the regular prices listed at the big box stores like Best Buy, Future Shop and The Source.
(expiry: 3rd October 2014)