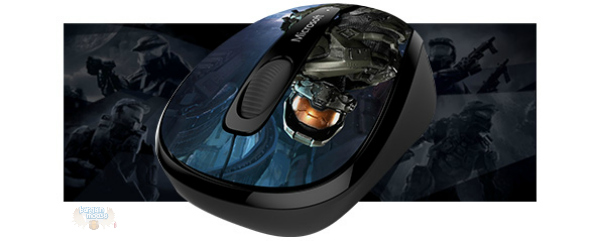 Microsoft Canada has discounted the Wireless Mobile Mouse 3500 Halo Limited Edition: Master Chief from $29.95 down to $14.95 with free shipping.
This is not a gaming mouse. Rather, it is a regular Microsoft 3500 wireless mouse with BlueTrack Technology that has a nifty paint job. I find it an odd combination: regular mouse with a gaming theme, but what do I know. I do think it looks stylish and the last time I helped a friend of mine find a new mouse on a budget, I recommended he pick up this beauty. Oddly enough, he preferred a plain blue mouse. Then again, he is not a gamer.
The appeal of this mouse is two-fold. First, this is a limited edition mouse that will not be available for long. I always like limited edition items as it reduces the chance of everyone else owning the same mouse that I do. Secondly, this mouse actually looks really cool with one of those Halo guys (you can tell I do not play Halo) on the one side.
Outside of appearance, this functions like a basic mouse. BlueTrack technology helps your mouse laser glide over different surfaces. The tiny transceiver plugs into one of your computer's USB ports. When not in use, the receiver stores in the bottom of your mouse. This mouse can last up to eight months on a single battery. When it is time to replace the battery, there is a power indicator to let you know. The mouse is powered by a AA alkaline battery (included) and has a range of up to 15 feet, which is typical.
I found this same mouse for $29.99 @ EB Games and for $29.99 @ Best Buy Canada. On EB Games, the mouse has a 3.86/5 rating with over 10 votes. Essentially, this is a standard 3500 Microsoft Mouse with a great paint job. I think it is fun and a little different. Great for the dorm room or for your home office, this mouse is good for Halo players and non-gamers alike. At only $15 with free shipping, it is a solid purchase.
(Expiry: Unknown)