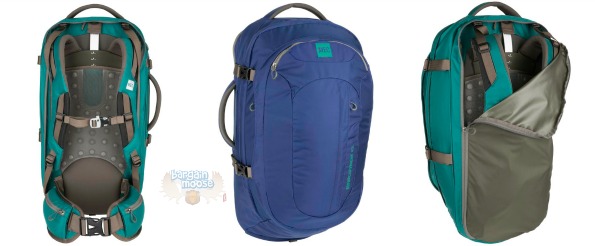 Mountain Equipment Co-op discounted their ever-popular Supercontinent 45 Travel Pack from $145 down to $81. As MEC offers free shipping on orders of $50 or more, this travel pack will ship for free.
This travel pack is just what you need for backpacking across Europe or any other fun adventure you have planned. I would love to forget the suitcase and just use this travel pack for a couple weeks' vacation in Iceland. Iceland is not a country you want to haul a suitcase around, as it requires a fair bit of walking.
This Supercontinent travel pack has all the features you need as a backpacker. The travel pack is made with a plastic framesheet, aluminum stay, and contoured, padded shoulder straps with hipbelt. The air dot foam back panel covered in mesh promotes air circulation and comfort.
There are two different sizes of travel pack but the price remains the same. Choose from Short/Standard or Standard/Long depending upon your torso length. The main vertical front pocket unzips to expand bellows-style. This feature gives you extra capacity when you need it and a lower profile when you do not need as much space. For the short/standard pack, you receive an extra 8L space and for the standard/long you receive an extra 11L of space.
The Supercontinent 45 Travel Pack has a luggage mode where a cover zips over the harnesses and there is carrying handles. A reviewer commended the backpack's ability to unzip all the way down, like a suitcase. She said it was one of the best features and comes in very handy when backpacking. Here is an excerpt from another review:
I used this bag for travelling through Europe (2 weeks) and Cuba (2 weeks). The bag was great for moving from one place to another, fits well on my back and it is very comfortable. the side straps are very useful to keep your bag tight; I have taken 6 flights already with this back and always took it as carry on, no complaint from the airlines.
Some reviewers were concerned that the pack might be too long for carry-on, but the above reviewer has had no problems. If you are concerned about length, then purchase the short/standard sized pack.
The pack comes in Sherwood (green) or midnight blue. Both colours are on sale and still in stock as of this post.
(Expiry: Unknown)