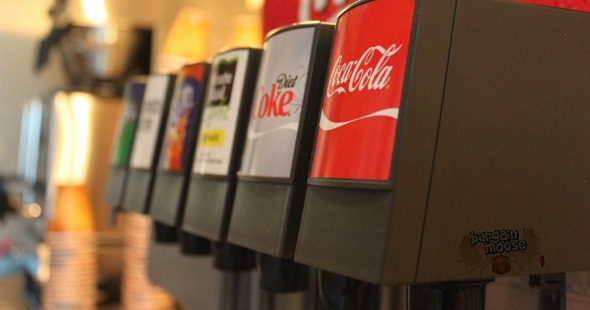 Starting May 7th, McDonald's Canada will be offering their Dollar Drink Days promotion again. All summer long you can stop at a McDonald's near you to get your favourite refreshing beverage for just $1. This offer apples to your regular soft drinks (any size) as well as iced coffee (small or medium), so pick your poison and enjoy.
Summer. What comes to your mind when you think of summer? Hot weather, spending quality time with friends, and staying refreshed. During the summer months you will find yourself needing more cool beverages than any other time of the year, which is why you will be thankful that the McDonald's Dollar Drink Days promotion is back. You can grab your favourite soft drink, pop or iced coffee for just $1 all summer long.
I greatly anticipate the summer weather so I can enjoy my favourite beverages - Iced Cappuccinos and Iced Coffees from Tim Hortons. While the iced cap still holds a special place in my heart, I do actually prefer McDonald's iced coffee over the Tim Horton's iced coffee. I discovered my preference last year during McDonald's Dollar Drink Days promotion. You really can't beat that price tag. Just $1 for a small or medium iced coffee? You can even add a shot of your favourite flavours such as caramel, vanilla or even sugar-free vanilla. Last year they didn't even charge me anything extra for the delicious caramel flavour shot.
The soft drinks included in the McDonald's Dollar Drink Days promotion include:
Coca Cola
Diet Coke
Coke Zero
Barq's Root Beer
Sprite
Nestea
Fruitopia Strawberry Passion
Fruitopia Orange Groove
Minute Maid Apple Juice
Minute Maid Orange Juice
Premium Roast Brewed Iced Coffee
Unfortunately the iced frappe, white or chocolate milk and smoothies are not included in this promotion at McDonald's Canada, but never fear. There is a large enough variety of included $1 drinks that everyone will be satisfied. No expiry date has been announced for this McDonald's Canada promotion yet. In the past this promotion ran until the middle of September, around the time that the beautiful summer weather starts to cool off. So snag a soft drink or iced coffee for just $1 while you can Moosers.
(Expiry: Unknown)