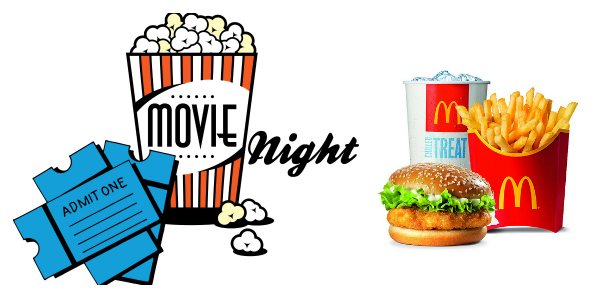 McDonalds Canada has teamed up with Cineplex to offer you something great. Subscribe to the McDonalds' newsletter and fill out a short survey for your own free $5 coupon code off your next movie ticket.
Here are the steps.
1) Sign up to the McDonald's newsletter through the link above. it requires very basic info: only your name, email address, and the first three digits of your postal code.
2) Confirm your email address through the first email you receive. Then wait for the second email to arrive.
3) The second email will contain a link to a very short survey. Click through that link and complete the survey. They ask for demographics (age, birth date, and children) as well as five general questions about your fast food habits and dining at McDonalds specifically. The survey is super short and it took me like two minute to complete.
4) After completing the survey, you will be emailed a unique coupon code for $5 off your next movie ticket purchase. To redeem the coupon, you need to go here. Redeem the code only when you are ready to buy your ticket for the next movie you want to see.
These unique $5 coupon codes are while supplies last only. I found the first two emails arrived very quickly but the third email - with the promo code - took a bit of time to arrive.
I have no idea how long this offer will last, but it is a great deal while it is still on. I do not even eat at McDonalds and I signed up to the newsletter to get this offer. I also had to check it out for you guys to make sure it works. This coupon does combine with discount Tuesday movies. Here in British Columbia, discount Tuesday movies are just under $5 so I just got myself a FREE MOVIE ticket essentially (before tax). Of course, pricing varies per province so that will not be true for everyone.
Unfortunately, there will not really be a way to tell if they are out of these coupons. However, I just received my coupon (waited about 10 minutes) so they are still on right now. By the way, the unique coupon code expires on June 30, 2016 so you have plenty of time to use it.
(Expiry: Unknown)