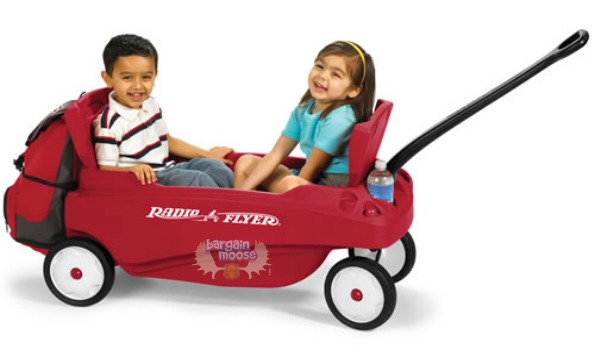 Mastermind Toys Canada has the Radio Flyer Outback Wagon on for $40 off, now only $99.95.
A wagon is probably one of the most indispensable items a Mom of toddlers and preschoolers (and even older) needs. Strollers are great, but usually only accommodate one or maybe two children, and not a lot of stuff on top of that. Also, toddlers aren't as keen to sit in a stroller like they were as babies, but they all love sitting in the wagon. Most wagons say they only seat two children, but believe me, I've seen up to six pack themselves in after a long day of fun, when walking to the car just isn't feasible.
Radio Flyer is well-known for their wagons because they not only look good, they are durable and do the job.
This wagon is great because it is a two-in-one, which means it can fold up to seat two children or fold down for a flatbed. If you are safety-conscious, you can buckle the two included seat belts, which I haven't seen on most other wagons. With even more places to put your stuff, there is a removable soft-sided storage bag that expands and even includes an insulated compartment to keep cold items cold! Cup holders inside the wagon let the kids have their drinks and adult cup holders are at the front, because even though the kids don't believe it, we get thirsty too.
To store your wagon, the handle folds over easily. What the best part is, is that it is a quiet ride. I have a very noisy push car that I use to take my son to meet the school bus and everyone five streets over can hear me coming. My dog is frightened of it as well. The front axle is sturdy and was designed for non-tip turning, which I guess is pretty important so your kids stay in the wagon.
Shipping is free on purchases over $60 (up to $15 shipping credit), and when I typed in my postal code, the shipping would have only been one dollar. Score!
(Expiry: 7th May 2013)