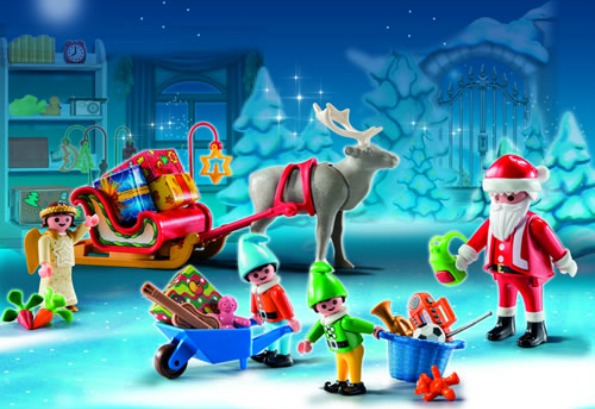 Mastermind Toys has 20% off of all of their Playmobil right now, which is a pretty standard sale price on Playmobil. I usually try to buy it when it goes on for that rare 25% off, although I've been caught buying it for regular price *gasp*. This sale includes the Playmobil advent calendars and while 20% off is not a huge discount, this is the first time I've seen any advent calendars on sale for this year. They are regularly $29.99 and on sale for $23.99.
I absolutely love Playmobil advent calendars. Instead of giving my child some dollar store chocolate that they don't need, they get a toy that they will use and love instead! There are so many different Playmobil calendars for whatever your child is interested in. The most seasonal would be this Santa's Workshop, which I know my kids would love. It includes a Santa figure, elves, an angel, reindeer and more.
If you have younger children and you think Playmobil isn't for them, Playmobil 1.2.3 have larger pieces for the under 4 set. They rate this set as for ages 1.5 and up. This set is called Christmas in the Forest. It is actually regularly $32.99 and on sale for $26.39.
If you are looking for sets that are less Christmas, but still advent calendars, there are two options for you. You can choose between the fire rescue operation set, which has 24 days of surprise items plus a card game or the dragons treasure battle, which has all sorts of fun knights, dragons, horses and more.
Mastermind Toys offers free shipping on $60, which is not that high considering you could do some more Christmas shoppingand easily get your cart up to that amount.
Their online outlet is filled with other toys that have huge discounts and could help you get that cart up to the required amount for free shipping.
(Expiry: Unknown)