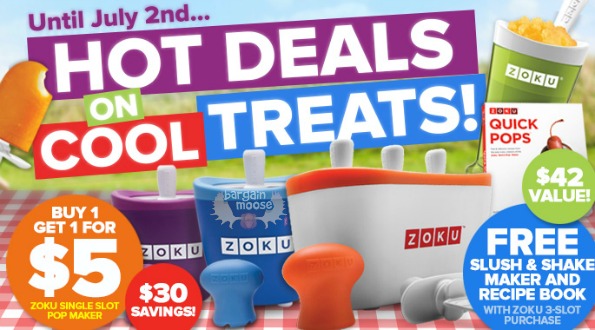 It is popsicle time! Did you know you can make a popsicle in less than 10 minutes? Buy the Zoku Quick Pop Maker from Mastermind Toys and you'll get a free Slush and Shake Maker (worth $24.95) and a free recipe book (worth $16.95).
This thing is totally cool. You can make your own frozen treats in just seven minutes, without a freezer or without even electricity. It does need to be frozen before you use it and you'll need to refreeze after making nine pops. You get six reusable plastic pop sticks with unique ridges that keep the popsicles on the stick.
What I love about this is that most of the commercial popsicles you buy are full of sugar and dyes. I love making my own at home using fresh fruit,  yogurt and I can even slip in a pureed vegetable or two sometimes. I have bought the dollar store popsicle molds, but when I pull the sticks out, the frozen part always falls off. Plus, the kids are so impatient that if I don't plan ahead, they end up going to another friend's house for a freezie!
What I love even more about this is the free slush and shake maker, which I would use for myself to make homemade frozen drinks. I find the blender just doesn't get the texture right when I make margaritas or daquiris. This is perfect. It is also a great idea for taking camping (if you can keep it frozen). We've tried taking ice cream camping, but if it melts a bit, it isn't that great. With this, if it melts a bit, you can still refreeze it and not have to worry about getting sick.
You have your choice of colours for the maker and the slush maker. $74.95 for the 3-slot quick pop maker. If that deal didn't quite tickle your fancy, you can buy a 1-slot quick pop maker for $34.95 and get a second for only $5.
Get free shipping when you spend $60 so shipping is free on this purchase.
(Expiry: 2nd July 2013)