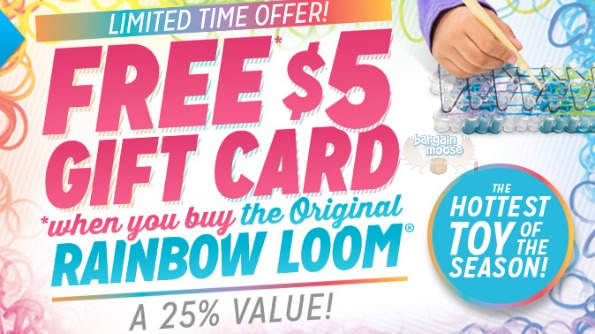 The breakout hit for kid's toys this past year had to be the Rainbow Loom kits.  They were everywhere and every kids wants one.  In fact, they want two or three of them so this deal is perfect for parents.  Get a free $5 gift card with every purchase of a Rainbow Loom kit at Mastermind Toys Canada.
The cost of the Rainbow Loom complete kit is $18.95.  Once you add one to your cart, a $5 gift card will automatically show up on you purchase with the price being free.  You will get a $5 gift card for every single Rainbow Loom you add to your cart so you have the potential to get a bunch of them.
Each additional card will not be automatically added like the first one however.  If you are getting more that one, you will manually have to change the purchase number of gift cards to the amount you are owed.  I wanted to test this out so I added five sets to my cart and the gift card total said one.  It allowed me to change the number of gift cards to five and I got a total of $25 in gift cards free.  I am not sure if there is an actual limit to how many gift cards you could get but I figured not many people would buy more than five so that is how high I went.
I like this deal because if you have any birthday parties to go to this year for little girls, this is one of those items that is a shoe-in to be loved.  You can buy a couple of them and save them for future birthdays, Easter and even Christmas this year.  Get them now while you get this free gift card with them and save even more on future purchases.
You will get free shipping for all orders of $60 or more.
(Expiry: Unknown)