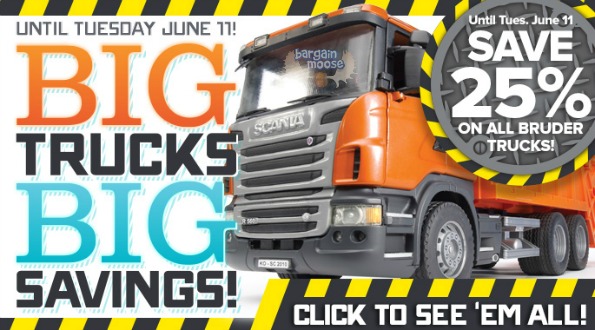 Get 25% off the realistic and super cool Bruder Trucks at Mastermind Toys, in-store and online.
These trucks are for the kid who loves big, fully-functional and realistic toys. I'd have to say that is 99% of boys out there. Boys are also very rough with their toys and these toys are made to withstand the brute force of kids. Bruder is an environmentally-conscious company, with sustainable practices to reduce the environmental impact of creating new toys.
Save over $30 on this Mack Flatbed Truck and JCB Backhoe Combo with detachable trailer featuring so many realistic and life-like fun features. The truck is also compatible with implements that are sold separately like the snow plow attachment. Was $129.95, now $97.46.
This Granite Crane Truck is so cool, it extends to over four feet high. I love when toys are bigger than kids. Was $129.95, now $97.46.
On the smaller side, check out this CAT Skid Steer Loader. Was $24.95, now $18.71.
Shipping is free on orders over $60.
(Expiry: 11th June 2013)