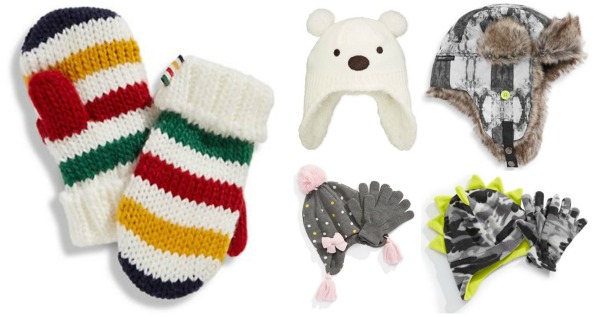 Aye karumba! I have been shopping for winter apparel and outerwear for my son, and it can get expensive! So I have been keeping my eyes peeled for great deals on winter clothing and outerwear, and I found some offers so perfect that I had to share. Right now you can shop markdowns in kids' outwear and save up to 70% off at Hudson's Bay Canada.
So  I clicked the Kids' Outwear section at Hudson's Bay Canada online and found that the items start as low as $7, which is fantastic. Especially considering my son loses gloves left, right and center. I have yet to stock up on gloves and hats, but I am about to do that thanks to the awesome prices at TheBay.com.
Okay, these Hudson's Bay Company Multi Stripe Infant Mittens are just the cutest thing ever. They were $10 but now that can be yours for just $7. There are also the Olympic Collection Infant, Toddler and Kit Mittens for $10. Those mittens are so popular - even for adults. They might be a perfect addition to whatever stocking stuffers you have already purchased for the kids this Christmas.
Hats?! I bet your kids need hats! I love the Winterproof Printed Faux Fur Trapper Hats that are just $12. These hats were originally $16 and I would definitely even wear them myself. They have faux fur and ear flaps to keep your ears warm. I have a hat like this and I can only say wonderful things about it, especially when it is below zero outside. There are three different versions of this hat available at TheBay.com, and some of them have more than one colour option too. Check them out:
I like to buy my kiddo matching winter accessories, especially when it comes to hats and gloves. Check out the Nolan Three Piece Microfleece Dino Hat and Gloves Set. Every little boy will love these winter items, and your wallet won't complain. They were originally $18 but right now they are on clearance for just $13.50. If you have an infant, then I definitely suggest you buy an absolutely adorable hat before they develop preferences and don't let you pick anymore. How about this First Impressions Bear Pom Pom Tuque? It was $25 but it is now $18.75. While it is a bit pricey, it would even qualify as a keepsake item if I do say so myself.
Shipping rates are a little complicated over at TheBay.com, but I can simplify it for you. If you spend $99 or more you will get totally free shipping. If you spend under $50 your shipping will be $5.95. If you spend $50 - $75 your shipping will cost $7.95. If you spend $75 - $99 your shipping will be $9.95. So as you can see, your best bet is to try and find $99 worth of items to get free shipping. If you have 2 or 3 kids, outfitting them for winter might cost about that anyway.
Moosers, have you started your winter outerwear shopping?
(Expiry: Unknown)