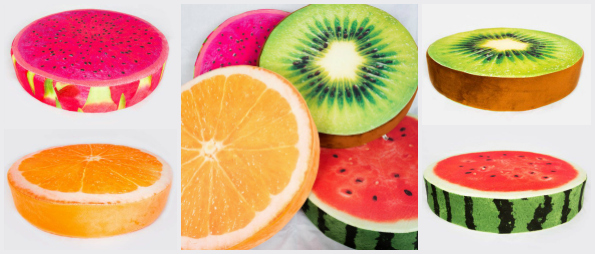 Maple Harbour Canada makes some really fun and fantastic accessories for your home. I instantly adored these Fruit Cushions the second I saw them and I just knew I had to post about this deal. The Fruit Cushions - which look like real fruit - are on sale from $24.99 down to $17.50 each with free shipping. Maple Harbour just sent us an exclusive coupon code for an extra 10% off your order. Use coupon codebargainmoose2015 to get each pillow for just $15.75 each.
You get to choose from the following fruits: orange, watermelon, kiwi, and dragon fruit. Seriously - these cushions are the funkiest throw cushions ever. Fruit-up your living room with a couple slices of fruit or adorn a fun and fantastic children's bedroom with these. You could even stick then in the playroom or brighten up a den. They are fun, they are fantastic, and they are oh so fruity.
These pillows come in a generous size too - 16" in diameter. They are made of microplush for comfort and durability as well. With four fruits available, I am not sure how I would ever pick one. Do I get two matching cushions - say watermelon - for my sofa? Do I throw a fruit salad and order one of each? I am not sure how I would mix and match but my colleague Brooke made her choice!
These cushions are totally adorable and they look so realistic. I've purchased two: the watermelon and the orange. I can't wait to receive them so I can spray them with smelly stuff and make them smell real too!

Of the four, dragon fruit is my favourite fruit so I am leaning towards that cushion. I could also totally see buying one of these for my Mom - primarily the dragon fruit one as she really loves pink.
Speaking of gifts, these would make awesome Christmas gifts. You can give them to adults with a good sense of humour (and impeccable style), give them to kids for a fun cushion for their own personal use, and you could use them at a gift exchange. Honestly, if I found this cushion at a gift exchange I would battle to the last gift over it. These are SO awesome.
Each pillow comes with free shipping so buy as few or as many as you like. If you do pick up some fruit cushions, drop a comment below to let us know which ones you chose.
(Expiry: unknown)