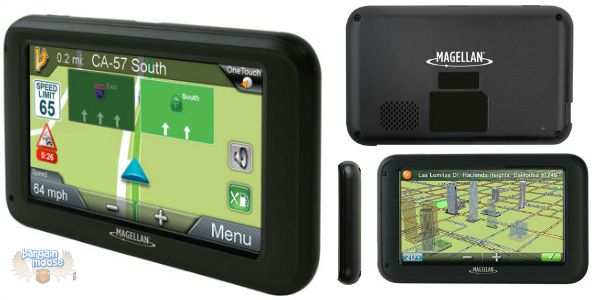 Skip making yet another wrong turn and pick up the Magellan RoadMate 5330 GPS. This handy device that includes lifetime maps for both the Canadia and the US was $189 but is now only $119.99. Completely free shipping rounds out this fab deal.
You may remember that I am a big fan of using a GPS device from my previous post- Save Money Ditching Your Monthly Smartphone Bill.  If you also prefer a portable GPS on your window, then you want to check out this fantastic deal I found. The Magellan RoadMate 5330 GPS is on sale over at Costco Canada today for a stellar price. This GPS has many great features including lifetime Canada and US maps that can be updated up to four times per year for free. You will also find live traffic alerts from PhantomALERT and a detour option, which is always handy when you can see the traffic looming. Over 7,000 points of interest are also included so you can find a place for a snack, to use the restroom or to find a specific attraction to visit. The screen is 5 inches and includes both a day and a night viewing mode. Included in the box you will find the GPS, a data cable, a car charger and a mount for your windshield.
TigerDirect.ca has this GPS on sale for $166.99. You will pay $187.99 at Newegg.ca plus an additional $9.99 in shipping costs. Canadian Tire sells this GPS device for $199.99. This is a stellar price for this device.
I did not find any reviews on Costco Canada's website, but I did find a few comments over at Canadian Tire. Most feel the device is well worth the money.
Very Good GPS! This is a quality GPS and with lifetime maps it will always be current.
A second reviewer feels the interface is spot on.
Very good purchase. Good on navigation... can carry anywhere...fast and feasible…
I have personally owned a Magellan RoadMate several years ago and was very impressed with the device. It lasted me about three years before the cord began to short from throwing it onto the seat roughly too many times. I was able to extend the life another two years by purchasing another cord replacement. I also liked the option to use only highways and avoid tolls. I found this option kept me on a direct route more often and off of the side roads. I also found that when I made a wrong turn, this device was quick to recalculate and change directions. I tested this multiple times (with multiple wrong turns!) and always was back on track quickly.
(Expiry: 9th August 2015)