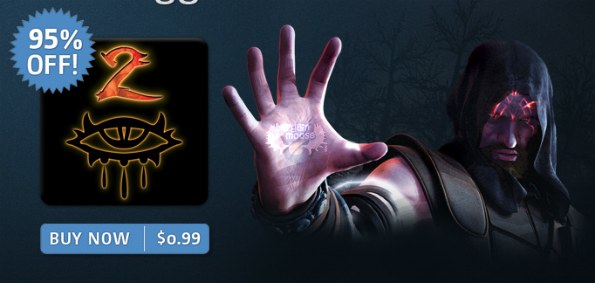 If you own a Mac computer this is a sweet deal! I have never heard of this game before, and even I bought it for 99 cents! In the Mac App Store you can get NeverWinter Nights 2 for just $0.99, regularly $20!
The game has excellent reviews - the only problem they seem to find is that the expansions are not included with this version. But in comments people were gladly paying $20, so I am gladly going to pay $0.99!
About the game:
Build a character that suits your style of play – good or evil, chaotic or lawful, with any number of skills, feats and professions available at the click of a button. Whether lobbing fireballs and researching forgotten spells as a powerful Wizard, hacking a trail through legions of Orcs as a Fighter armed only with a battle axe and your courage, or taking on the role of a Rogue that can slip into the shadows at a moment's notice, the choice is yours. Choose your alignment, your allies, your companions, and how you want your character to develop… design the character you want, role-play the way you want, and carry the battle to the enemy.
I vote evil wizard!
Expiry: 28th, March 2012