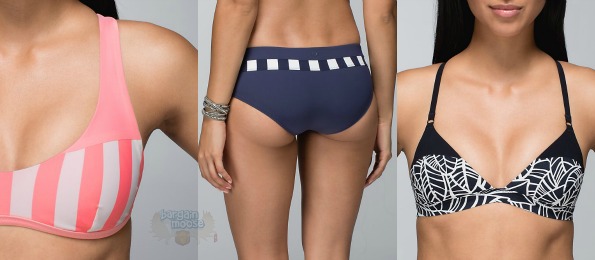 Lululemon Canada has discounted their Shanti Surf separates from $54 down to $34 each with free shipping. You can choose from two tops and two bottoms for fun mix and match potential.
The material on all the Shanti line is made of swim fabric that has a UPF of 50+ to protect those parts of your skin from the skin's rays. The bonded seams help prevent chafing when your skin rubs against the suit as well. Keep in mind this is not, in my opinion, true athletic swimwear. The cut on the tops tends to be low with only medium support for the most part.
The Shanti Surf Sports Top is my favourite of the two tops because of the racer-back style. It allows your shoulders full range of motion without any interference. The top comes in four different colour combinations and is still available in sizes 4 through 10, with only size 12 sold out in all colours.
The Shanti Surf Triangle Top is a fun little top with criss-crossing straps in the back and a fun double-band at the bottom of the back. It is specifically built for A and B cup women as it only offers light support. This bra actually has better reviews than the above bra, so check both out before making a decision. It is available in three colour ways - sizes 4 through 10 represented.
Match your chosen top with one of these bottoms. The Shanti Surf Bikiniis available in three colours and sizes 4 through 10 are available. This swimsuit is designed to fight tight but it will loosen up in the water, so read the comments before deciding on your size. This is a low coverage bikini meant to show some skin this summer.
Last but not least, the Shanti Surf Hipster is also on sale and available in sizes 4, 6, and 10. It is a more full coverage bottom than the bikini. It is also designed for a tight fit, so the comments are very helpful for determining whether you need to size up or not.
While I would not actually consider this athletic swimwear due to the low bust support, it is performance fabric and the pieces look great. Some of the colour combos are adventurous and I am sure these would make wonderful suits for your next trip to the beach.
Receive free shipping on all orders at Lululemon. All sale items are final sale.
(Expiry: unknown)