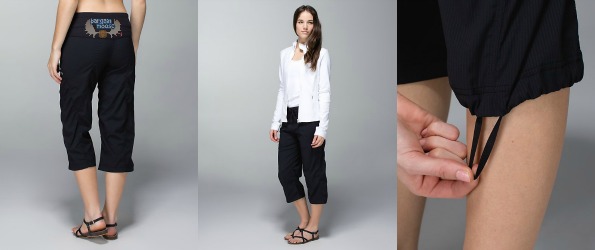 I found a hot deal at Lululemon that I might just have to grab! Get the studio crop now for only $59, with a regular price of $88. You'll also get free shipping as Lululemon offers free shipping on all orders.
I wanted to blog these pants because I have a pair of these, except they are not the cropped style and they are amazing. Everyone I know that has the studio pants loves them. They are the perfect pant for going from here to there and you can easily throw them over top of shorts and your other yoga gear. You know how sometimes your other Lulu pants are a bit too fitted in the butt and other areas to go grocery shopping, but fine for yoga? Well, these are the perfect solution for putting on right over your tighter pants without having to get fully changed. You can also wear them alone, which I often do and they are perfect, even on really hot days because the fabric is so lightweight.
My mom bought me mine for a birthday gift and I was so grateful after she heard me go on and on about hers, which are the crops. Now I want a pair of the crops too and at this discount, I can definitely get a pair!
Of course, read the reviews, as one person says there is a problem with the waistband. I have never had any problem with the waistband, to the contrary, I find the waistband very comfortable and does not roll as many other pants do to me with a little extra weight around my middle. Others say these are their go-to pants through all season and I agree. Even in the winter, you could wear these with taller boots, even with the crop.
I also read in the reviews that people sized down on these pants and I'd agree on that too. I'm normally either an 8 or 10 and I got an 8 in these and they are a little large. A 6 would have been a nicer fit for me.
(expiry: unknown)