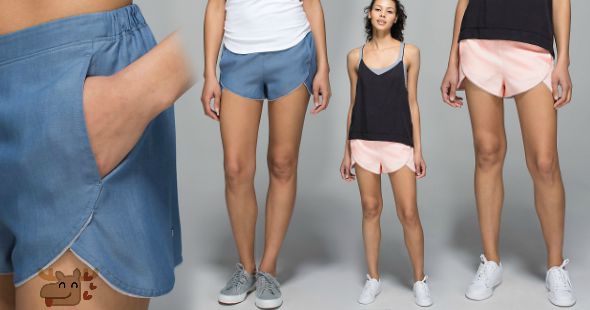 *Bump! These shorts are back at an even lower price than before*
If you have a habit of wearing shorts to the gym or even around the house after work, then check out these Lululemon Canada Wake & Flow Shorts. They were just added to their "We've Made Too Much" section, and we sure do reap the benefits with this one. These shorts were originally $64, but can be yours now for just $29. They come in two different colours, and shipping is totally free. 
Thought the months may be getting colder, you may still hit the gym to get your exercise into your system when you can't get it outside. So, you probably need a great pair of gym shorts for your hot yoga classes, or even for days where you go to the gym and work out. These Lululemon Wake & Flow Shorts are superb. They were originally $64, but right now you can get them for just $29 while quantities last.
These shorts are available in two colours, and most sizes are still available. You can choose blue denim or butter pink, but maybe you will want both colours in these shorts to add to your wardrobe. Here are the sizes currently available in each colour:
Butter pink: 2, 6, 8
Blue denim: 6, 8, 10
These Women's Wake & Flow shorts were actually designed for both yoga and sleep purposes. They are made with the Tencel fabric that is supposed to feels super soft and comfortable. They are made so that you can decide if you wear them as high waisted shorts, or pull them down a bit and call them hip slung. They also have a hidden phone pocket which is pretty cool, although if they are like my current Lululemon shorts then your phone may fall out of your pocket when you sit down, so be careful of that for sure.
You have to love that Lululemon.com ships any and all purchases for free, with no minimum spend. That means you don't have to feel bad if  you quite literally only purchase one pair of these shorts as there will be no additional charge for shipping and handling. Though Lululemon Canada does have quite a few fab items in their "We've Made Too Much" section, so I suggest you take a look anyhow. Especially if you have a few people on your Christmas list that would love some of this athletic wear.
(Expiry: Unknown)