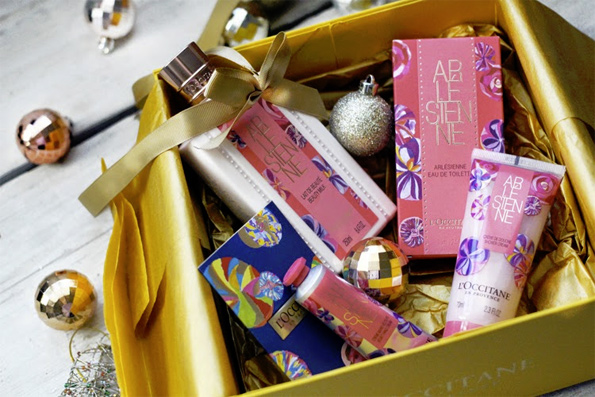 Hands up who loves L'Occitane products! MEEEE!!! If you're on the hunt for Christmas gift ideas, then I have the perfect deal combo for you. Using the deals and discounts below, there is the potential for HUGE savings on L'Occitane products – with tons of gifts with your purchases!
There are SOO many offers to mention here, I will list each one and show you the benefits.
Free / Bonus Gift on $50+ / $95+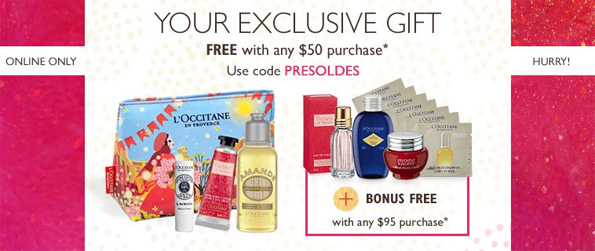 First up, this is a coupon code for a gift with purchase if you spend $50 or more. Just add this coupon code when checking out:
Click here to use the L'Occitane coupon code online now
CouponCode: PRESOLDES
Discount: Free gifts on $50 / $95
Expires: 8th November 2015
When I had $50+ in my cart, and applied the above coupon code, I was able to choose one from a selection of gifts each worth $10 to $12.
Then, when I put $95 or more in my cart,  was able to choose from another FREE gift on top of this. The best of the bunch was a Soledad Mini collection worth $28 for FREE!
Spend $45+ & Get $41.50 Kit for $20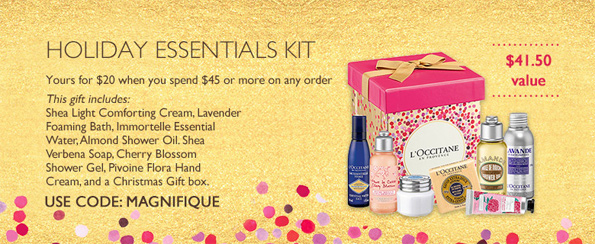 If you are making an order that totals $45 or more, then you have the opportunity to get a holiday essentials kit at a discounted price. This kit is actually worth $41.50 but you can pop it in your cart for only $20!! Here's how to get that offer:
CouponCode: MAGNIFIQUE
Discount: Holiday kit for only $20
Expires: 25th December 2015
Up to 50% off
Some of the items on L'Occitane are discounted just now – you can see the discounted prices when you are shopping. The sale items are applicable with all the other offers that I am mentioning here on this page, so you might want to have a browse and see the best discounts. For example, this Aromachologie Revitalizing Fresh Detangling Spray is 50% off just now.
Free Shipping on $49+
If you're shopping online at L'Occitane Canada, it's more than likely you will be spending more than $49 anyway – so you're going to get free shipping on your order.
Free Samples with ALL Orders
Make any order, and you will be rewarded with a few FREE samples too! From that page, you can choose up to three free items. These are just small samples, but it's great to see all the gorgeous items and try them out.
FREE Gift Wrapping Kit
L'Occitane has a really lovely gift service. When checking out, you can actually choose to get a free gift wrap set sent with your order – you can then parcel up the bits and pieces you wish to gift.
Conclusion
If you spend $95 or more on L'Occitane, you are getting an absolute TON of products, as well as free shipping to your home. Here's an example cart to show you what I mean: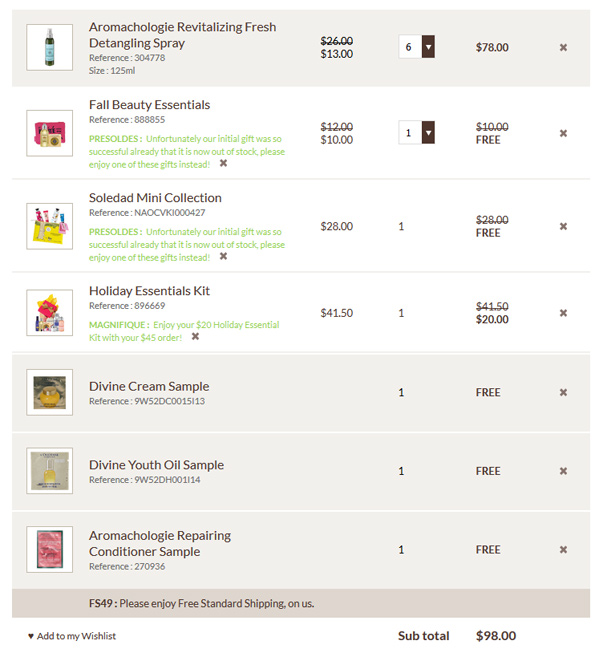 In the above, I am spending $98 and getting more than $237 worth of items plus free shipping!
The last two Christmases, L'Occitane has been my store of choice for a couple of major gifts. I had to buy a few high-value "secret Santa" type gifts and the beautiful products on L'Occitane were absolutely perfect for this. I combined some offers and free gift codes such as the ones above, and made some beautiful pressies from them. Needless to say, there were a couple of pieces that I kept for myself too!
I've been using this Verbena shower gel for quite a while now, and I really love it. A little goes a long way, it's in a very handy container for the shower, it smells delicious and leaves my skin feeling delightful. Yes, some of you might be saying… spending $44 on a shower gel.. are you crazy!? But I got it when it was on a special offer in a combo gift-with-purchase deal. I've been using this same bottle of shower gel for around 10 months now… and it's almost finished. I personally don't shower every single day unlike my partner who showers TWICE a day!
(Expires: Various)