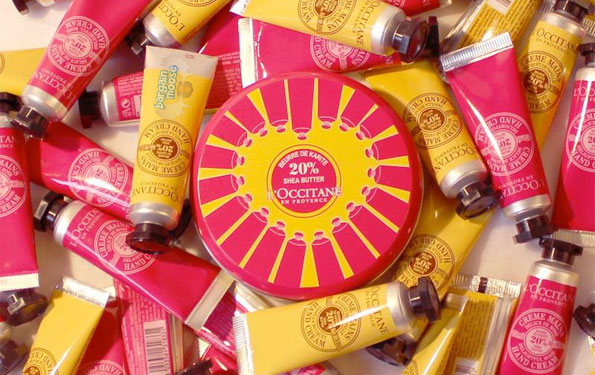 Want some free hand creams? L'Occitane is currently offering 3 freebies: a free collector's hand cream tin and two free mini shea butter hand creams. There are two ways to get these freebies: one includes a purchase and the other doesn't. So keep reading to find out more!
Once you sign up for this freebie, you will be presented with two ways of redeeming it: either via a coupon code or in-stores.
First thing's first though, once you click on the link above, you will be asked to be a little social with L'Occitane. You will need to either like them on Facebook, follow them on Twitter, follow them on Google + or follow them on Instagram. You can certainly do all four but just one will suffice as well. The second request, that of sharing the offer, is optional but you can do this as well if you wish.
After you enter your name and e-mail address, you will immediately receive an e-mail with the L'Occitane promo code: CASHCS that you will need to enter online on any order over $25. Keep in mind that L'Occitane only ships orders over $59 for free and that if your order doesn't reach that threshold, then a $9.99 flat shipping rate will apply.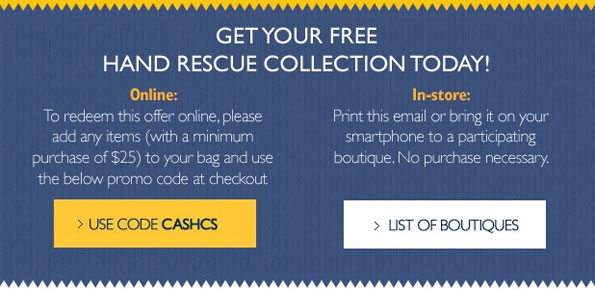 The other alternative is to print the e-mail (but not the image above!) you receive and bring it to a L'Occitane store near you to get these freebie with no purchase necessary. This is by far the best option as you won't need to buy anything. The code in the e-mail is unique, so only one person can redeem it but if you go with your partner or friend, then both of you could claim the offer and then print it.
We have heard rumours of L'Occitane employees being in the dark about offers like these but just make sure to show them the e-mail as that's all the proof you need!
These L'Occitane freebies are only available while supplies last and so, although it's set to expire in April, it might expire within seconds of this post going live, just as it can expire in a couple of days or even week. One thing is for sure though: don't wait to redeem it. The last time that Avigayil wrote about a L'Occitane freebie, it ended that same day! We were both lucky to have redeemed it in time but we know that many other Moosers weren't. So again, don't wait!
(Expiry: 16th April 2015)