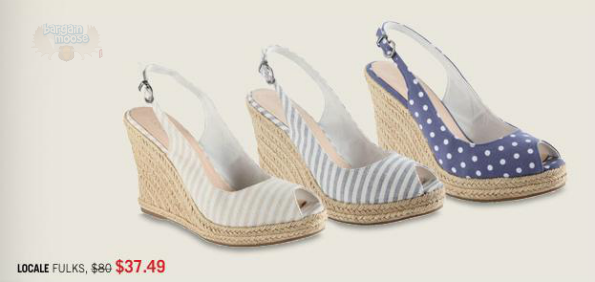 I just love the feature of the week so much over at Locale Canada that I had to share it with you.  They have their FULKS wedge sandal on sale for just $37.49 (regular price is $80).
I am a huge fan of heels but I am not a huge fan of wearing them.  The compromise is that if I want to wear a heel, I go for a wedge for the extra ankle support.  With 2 kids it is way to hard too wear heels that aren't a wedge.  I love these FULKS wedge sandals that were $80 and are now on sale for just $37.49.  They come in 3 different colors and they still have all of the sizes available.
They do have a different system for the sizing of shoes that most are use to.  If you are unfamiliar with converting shoe sizes, the rule of thumb is generally you subtract 30. So a size 38 would be a size 8. A size 40 would be a size 10.
(Expiry: 18th June 2012)