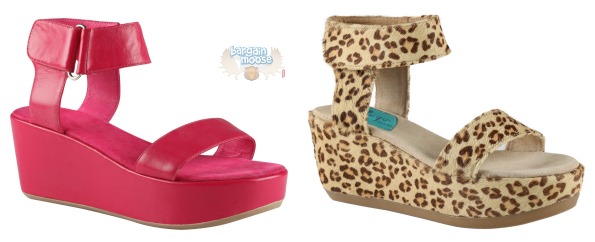 If your foot measures a size nine, ten, or eleven, then take the opportunity to get 80% off this exciting stacked wedge platform sandal from Everything. The Kenza is on sale from $100, down to just $19.98.
The fun animal print is available in all three sizes mentioned above, while the fuchsia has sold out very quickly and is only available in size nine.
The sandal features a good thick stacked wedge platform to give you extra height while not compromising stability. The Kenza has a wide front strap to comfortably secure your foot within the shoe, and also features a wide ankle strap with buckle detail.
I like how the material on the animal print actually looks like animal hair. It is synthetic of course (for all the animal lovers out there), but you can get the look, which I think is cool.
Now, if you have never subscribed to the Little Burgundy newsletter, I highly encourage you to do so. They will give you a 10% off coupon code for first time subscribers, which if you use on these sandals will bring them down to just $17.99.
What makes this deal even better is Little Burgundy Canada is offering free shipping on all orders right now. Usually they have a $75 minimum order required for free shipping, so this is some major icing on the cake.
(Expiry: unknown)