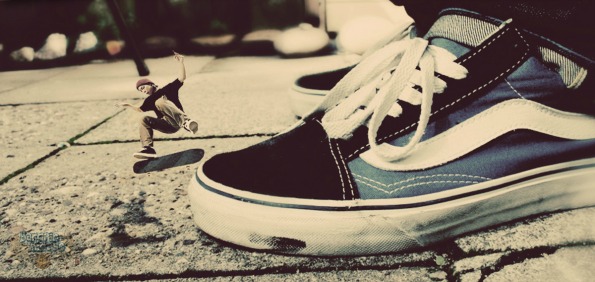 Little Burgundy Canada is selling men's Vans shoes for 40 to 60% off their original prices. If you must have a pair of Vans on your feet, then hurry on over to this sale to pick out your next pair of sneakers.
The discount all depends on the style you choose. I picked out these Vans OTF Renfred because the upper fabric has a distinctly thatched appearance, sort of like old basket weaving. it is very different to see this pattern, though very subtle, on a sneaker. The shoes come in either black or navy. This is one of the odd times I actually prefer the navy over the back. I think the lining on the navy is nicer (white with stars), the laces really make the navy stand out, and the back pull-tab (navy with white stars) is also a nice accent. The navy version makes the black sneakers look so plain. Originally $120, the sneakers are now on sale for $45.49.
The Vans Seasonal Elstan is another good solid shoe choice. Again, it is amoung the higher discounted shoes as it was $65 and is now $27.99. There are few sizes left in the black, but there are five sizes still in stock in the light grey. This basic sneaker would make a good beach shoe, or something to wear while running errands or barbequing in the back yard. I am not crazy about the light grey, but grey has never done my skin tone any favours so I am biased against it.
The Vans Ider shoes are also on sale, but price depends upon colour. If you want the light green or light blue pairs, you will pay $34.99, originally $65. However, if you are happy with peach coloured shoes, then you can pick up a pair for just $24.99. The peach is actually a pretty good summer colour for anyone needed inexpensive footwear that is comfortable and fashionable. There are many sizes left in that colour as well. My favourite colour is the light green, but to save $10 I would be willing to go with peach as it is certainly nice enough.
Right now, Little Burgundy is also offering free shipping on all orders with no minimum. So now is the perfect time to be picking out an inexpensive pair of shoes, as there are no extra shipping charges.
Ever worn a pair of Vans? What do you think of the brand?