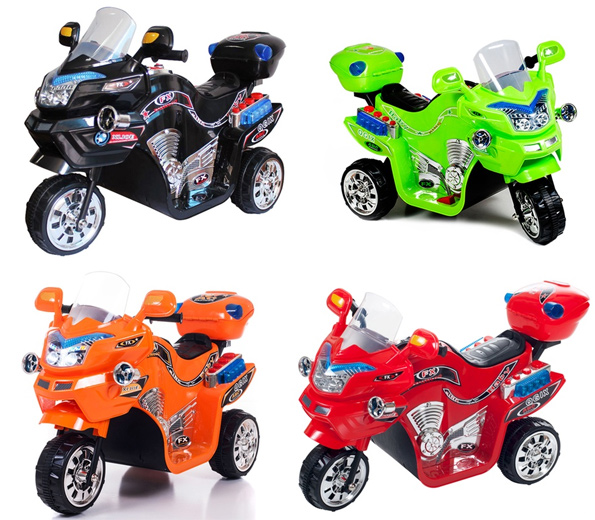 Anyone on the lookout for a Santa gift for the kiddos this Christmas? Have a think about this amazing Lil' Rider FX Battery-Powered 3-Wheel Bike which is currently on sale from Groupon Canada. The original price on this battery powered bike is $199.99, but you can get it now for only $89.99!
This is an amazing toy and one that I personally would have ABSOLUTELY loved to have been gifted as a child. Wait, who am I kidding? I'd love it NOW!! Here's this bike in a nutshell:
Battery-powered three-wheeler flaunts a working headlight and makes realistic sound effects; comes plastered in colorful decals
There are a ton of colours to choose from in this Lil' Rider FX Battery-Powered 3-Wheel Bike, including all those I've shown in the image above. Racing car red would be my own preference! Which colour do you like best?
The bike is designed for kids aged between three and eight years old, and it has a maximum top speed of 1.75mph. That's pretty slow, but that's exactly what you need from this type of toy.
Shipping and handling is actually quite reasonable for an item this size – it's only an extra $8 when you go through checkout. That's not bad at all. Obviously free shipping would be much nicer, but we can't always get what we want. :)
There are also free returns on this item, which is good to hear. You are able to make a return within 14 days of delivery.
(Expires: Unknown – over 1000 have already been bought but there is no end date on this Groupon listing)