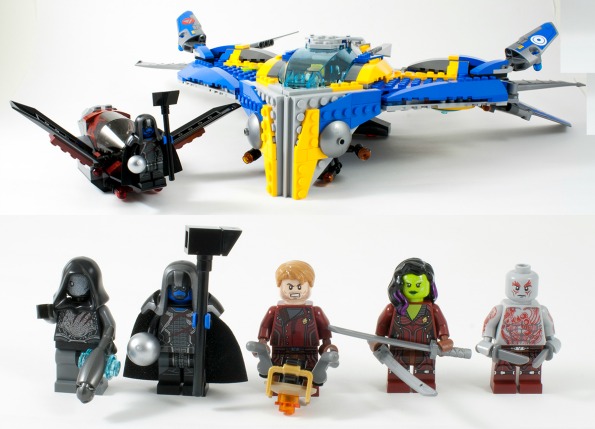 It is rare to see such a large LEGO set at such a great price. Right now, Walmart Canada has discounted the LEGO Super Heroes - Marvel Guardians of the Galaxy - The Milano Spaceship Rescue (76021) from $89.86 down to just $44! This large 665-piece super hero set is sure to please LEGO fans ages 8 and up. Receive free shipping to your local Canada Post location or Grab & Go locker. Alternatively, you can top your cart up with another $6 worth from the incredible clearance sale for free shipping to your home.
This same LEGO Super Heroes set currently retails for $89.99 @ Toys R Us, $89.95 @ Chapters indigo, and $89.37 at Amazon Canada. Every other place sells this Guardians of the Galaxy set for full price - except Walmart. This huge 665-piece set includes the Milano Spaceship, Necrocraft, and five mini-figures of which three are exclusive to this LEGO set. The five mini figures are:
Star-Lord
Gamora (exclusive)
Drax (exclusive)
Ronan (exclusive)
the Sakaaran
I was hoping for Groot, but you cannot have everything. The Milano Spaceship has a removable cockpit, adjustable wings, fire extinguisher, tape recorder, two flick missiles, and two stud shooters. It is a fairly large space craft as it measures 9" long and 15" wide.
The Necrocraft is a bit of a dwarf compared to the Milano. This craft features an opening cockpit, adjustable wings, and two missiles. It measures 5" long and 3" wide.
Now, the Guardians of the Galaxy LEGO set includes a ton of accessories as well. You get weapons like a sword, Cosmi-Rod staff, two daggers, and a large space blaster. The Star-Lord is equipped with his own special accessories. He has boot thrusters (like in the movie), two space blasters, and a large Hadron Enforcer space blaster. He is packing and ready to take out the enemy!
Overall, this is a large set with exclusive mini-figures and plenty of unique pieces. One reviewer said:
I built this set with my two children and loved every moment. They had fun, the design was solid and the aesthetics were very representative of the source material. The minifigures, by far are the crown jewel. The interior of the ship is decent, if a bit too narrow. For anybody who loved the Guardians of the Galaxy movie, this is a must-buy to have in your collection. The decals were easy and reserved for spots where bricks alone couldn't reflect the movie design.
Most people agree that the exclusive mini-figures are the best part of this set, though they enjoy building and playing with the entire set. Pick this LEGO set up before it sells out!
(Expiry: Unknown)