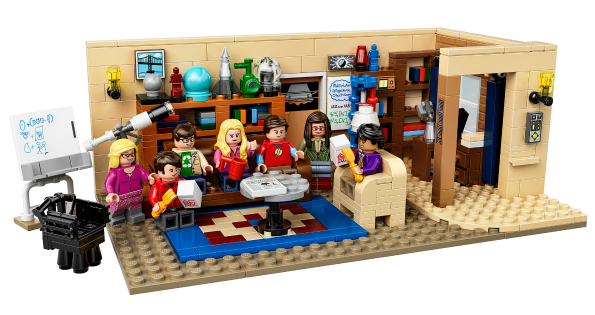 Get in on this great LEGO deal from Walmart Canada before it sells out! The giant retailer is selling LEGO Ideas - The Big Bang Theory (21302) set for just $50 with free shipping. The set originally retailed for $70 so you get to save $20 and get yourself a super popular TV themed LEGO set at the same time. Give it away for Christmas or keep it for yourself.
This is one of the coolest sets ever if you like Big Bang Theory. The 484-piece set builds the living room in Sheldon and Leonard's apartment. The set includes all of the iconic elements from their living room including a telescope, DNA display model, whiteboard, and various ornaments they have around the place. Essentially - you can totally geek out with this set because it has LEGO forms of all the cool and geeky stuff Sheldon and Leonard own.
The Big Bang Theory LEGO set would not be complete without the appropriate mini figures. This set comes with seven mini figures including Leonard, Sheldon, Penny, Howard, Raj, Amy, and Bernadette. I think I want this set just for the mini figures - I love Bernadette and I like how she plays so well off of the other characters.
Of course I had to hit up other online retailers for an extensive price comparison. The same set retails for:
$69.99 @ LEGO Canada
$69.95 @ Chapters Indigo
$69.99 @ Toys R Us Canada
$89.80 @ Amazon Marketplace (shipped by Amazon)
Essentially, this LEGO set is full price everywhere else and outrageously priced - as per usual - by marketplace sellers on Amazon. Given this price comparison, I couldn't help but share this deal with you. One reviewer said:
This product is so cool, in the nerdiest way possible. I am a huge Lego and Big Bang Theory fan. This product did not disappoint!! As the gang sits around the infamous living room eating Chinese take-out, the user can play with a number of iconic additions. From Wallowitz's rocket ship, Sheldon's green lantern replica, a white board with an episode reference, a double helix, and even a telescope. As an added bonus, each mini figure has two different painted faces adding real depth and enjoyment to the characters and scenes one may wish to play out.
Once upon a time, I was addicted to Big Bang Theory. I really liked it in the earlier seasons, though I have seen some of the more recent episodes and they are fun too. The dynamic between characters is pretty awesome and I like the mixing of the geek and non-geek worlds. I think this set would be a lot of fun and it is designed for ages 12 and up.
(Expiry: Unknown)