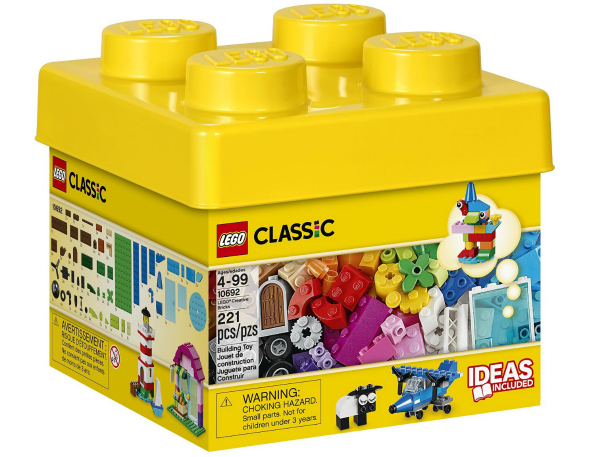 Sometimes you just want a whole bunch of LEGO bricks to build the stuff you imagine instead of buying kits. If your child wants to express themselves creatively through LEGO bricks, then this LEGO set is a must buy. The LEGO Classic Creative Bricks - 10692 was $19.95 and is now on sale for $15. There are 221 pieces of LEGO included in this set.
The LEGO comes in 29 different colours and includes two different sets of eyes, windows, two types of door, wheels, axles, and propellers among other things. All the bricks are packaged in a large LEGO brick storage box (cardboard bottom with plastic top), which is the perfect way to gift this LEGO set. You could wrap it, or you could just put a big red bow around the LEGO box and stick it under the tree, maybe hidden by a few other gifts.
The set includes a brick separator as well. With 221 pieces of LEGO, there are endless things to build. I love these building bricks far more than pre-made sets because this is where creativity truly flows. You get so many awesome bricks that you can use to build houses and airplanes and cars and more. You could even buy two boxes and combine the parts.
Now, I price compared this LEGO Classic Creative Bricks - 10692 set with three other retailers. Toys R Us Canada sells the LEGO building brick set for $19.99 and Chapters Canada sells the same set for $19.95. Walmart Canada had it on sale for the same price ($15) but it is completely sold out already. These sets usually sell out quickly whenever they are on sale as this is classic LEGO we are talking about!
You cannot get a more perfect gift than this for the kids and the big kids in your family. LEGO is one of those toys that some people never outgrow. It is also gender-less in that girls and boys both love to play with LEGO.
Receive free shipping on orders of $25 or more (just buy two boxes) or free shipping on any order with Amazon Prime.
(Expiry: Unknown)