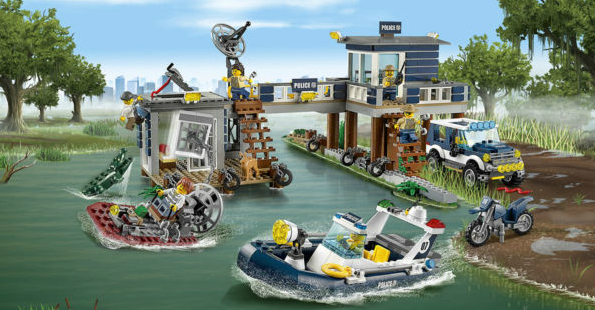 The huge LEGO City Police Swamp Police Station - 60069 is currently on sale at Amazon Canada from $109.99 down to $87.99. As this set is over $25, you will receive free shipping. I say this set is huge because it includes over 700 pieces of LEGO for you and your kids to build, play with, and enjoy.
The set includes a police station, 4x4 off road vehicle, police boat, crooks' boat, off-road motorcycle, hideout, and an alligator just for kicks. There are also six mini-figures with four cops and two crooks. The police station is fully featuring including a command room, garage, police cell with breakout function, connecting bridge, radar dish, table, computer screen, and even a toilet for when your crook needs to go to the loo.
The crooks' boat has an anchor and chain while the police boat has a searchlight and two life buoys for when the silly crook decides to jump overboard.
There are plenty of fun accessories as well. Two pairs of handcuffs will take care of the crooks. There are a couple cups (every Policeman needs coffee), a few walkie-talkies, a backpack, banknotes, snakes, and even three glow-in-the-dark files. Personally, I would like all LEGO to grow in the dark so I do not step on it at night.
The same LEGO set is currently:
$109.95 @ Chapters Indigo
$109.86 @ Walmart Canada (OOS)
$109.99 @ Toys R Us Canada
$109.99 @ LEGO Canada
As you can see, the set is full price anywhere else in Canada right now, so Amazon Canada's price is certainly an outlier and I am sure it will not last for long.
One reviewer @ Toys R Us said:
My son & I spent alot of hours building Lego city. That's the best thing about it. He takes his time & he'll spend all day playing with it. I intend to get him more. The directions are reader friendly too. I have no complaints. All the 707 pieces were there & in marked bags.
So this set is a bit pricey at around $110 usually. However, you are getting 707 pieces of LEGO for this price, so the set does offer good value. It offers even better value when the set is on sale.
(Expiry: unknown)