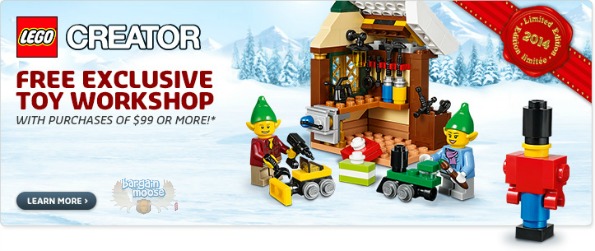 Lego Canada is offering a free exclusive toy workshop with any purchase of $99 or more. The free gift will be added to your cart, no coupon is necessary.
This is a sweet little bonus with your Lego purchase. It includes two elves, a few toys (soldier, train, bulldozer), and a little workshop loaded with tools (wrench, screwdriver, power drill, hammer, oilcan, and more) for making the toys. It is a great Christmas themed Lego set. The set is exclusive to Lego online and Lego stores.
This is the first set of two exclusive sets that will be released. The other limited edition set will be offered around Black Friday in November. If you want to collect both of them, it will require two purchases.
This is a limited edition set and limited quantities are available. Thankfully, Lego offers free shipping on orders of $75 or more, so your order will also ship free.
I was browsing the sale section to see what deals I could find. For a large set, this Nindroid MechDragon  is pretty awesome. It comes with a dragon, a car, and the character Nya - 691 pieces of Lego. Originally $109.99, it is now on sale for $87.98. The set comes highly recommended by reviewers including this enthusiastic teen:
This is just awesome! The dragon reminds me of a robot dragon in The Heroes of Olympus book series named Festus. I always loved dragons and this was just awesome. I like how we have good Garmadon and evil Sensei Wu so you can have Sensei Wu and Evil Wu fight and same deal with both Garmadon minifigures. This set is a must have for your Lego collection. It may be pricey, but it's worth the purchase! GET THIS SET!!!
I also added the LEGO® Friends Towel 2014into my cart to test out this offer. The towel is not exactly for playing with Lego, but it has Lego designs on it and it would make your little Lego fan a happy camper at the pool. Originally $24.99, the towel is on sale for $12.48.
Once my cart hit the required minimum, the free Lego set was added. The Toy Workshop consists of 107 pieces and is appropriate for ages 7+. It is worth $11.99, so not a bad little freebie from Lego. I have a friend that just loves Lego, maybe I should get him something very special for Christmas.
(Expiry: Unknown)