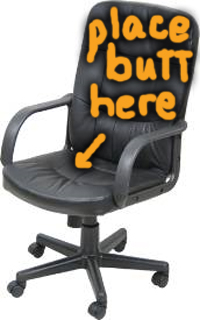 Is the seat in your computer chair getting so worn that it is almost see-through? Well, it's time to buy a new one then! This leather high back office chair is selling for only $48.88 at your local XS Cargo stores.
Now, there are only a few of these in stock in stores in major cities, but you can check the stock levels on the website, to see if it is worth a trip to your local store.
At this price, I'm not saying that this chair isn't also going to be threadbare in a year's time, but it's a bargain price if you are just looking for a basic office chair.
* Side note: XS Cargo always makes me think of escargots. Not a very good association in my head!