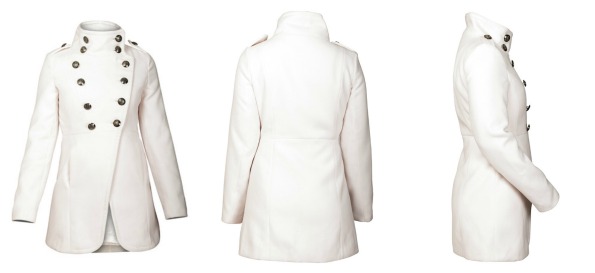 If you are on the hunt for a tailored coat to help you look fancy this winter, then I have just the coat for you. Le Caniche Noir has the Double Breasted White Military Coat on sale from $229 down to just $80, and they even have totally free shipping with no minimum purchase.
Here is your chance to look expensive without paying the part. This Double Breasted White Military Coat is still available in all sizes. Le Caniche Noir produces high quality items with an expensive taste and feel. We are lucky to be able to call this jacket ours for just $80. Especially considering the regular price is $229. This jacket is bound to go with any outfit, and it will keep you warm while you attend fancy events and even go on dates. You will look like you are sporting a $400 jacket, but you can smirk knowing that is not the case.
The Double Breasted White Military Coat is a tailored fit with a high collar. It also boasts round silver buttons, side pockets, white lining and a tailored waist. If white is not your colour, then you may prefer the pink option. The Pink Double Breasted Coat is a little different, and definitely more edgy due to the vibrant colour. The pink jacket was originally $239 and is now just $83. It is also available in all sizes at this time.
I have been on the hunt for a nice jacket to wear out to dinner or out to the movies, and this has captured my heart. I honestly like both of the jackets, but for matching purposes I will snag the white jacket. Based on the materials that these jackets are made of, I would assume that they are dry-clean only. If you are concerned about that, you can emails Le Caniche Noir and they are usually fast to respond. LeCanicheNoir.com also has the option to return the product for free once you have tried it on at home, so there is safety in knowing that for sure. How many retailers honestly offer free shipping and free returns? Like two.
One of the awesome things about Le Caniche Noir is that they offer free shipping with no minimum purchase. That means you can walk away with only adding a hat or $10 tie to your shopping cart and you wouldn't incur any additional shipping fees.
(Expiry: Unknown)