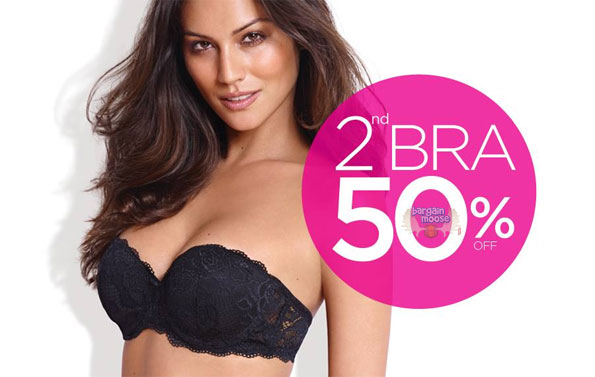 Every once in a while, La Vie En Rose has an ah-ma-zing promotion on bras and as luck would have it, it's on right now! Until the end of the week-end, for any one bra that you buy, you will get the second for just $5.
Did you know that October is Breast Cancer Awareness month? This promotion is certainly very fitting and in fact, did you know that just last week, La Vie En Rose donated as much as $60,000 to breast cancer research?
So if you need a bra, then now is the time to cash in. Well, even if you don't need one, you should still take advantage of this promotion as it's an awesome one. This is how I like to look at promotions like these: since the vast majority of La Vie En Rose's bras boast a regular price tag of $39.95, this means that for two bras, you would be looking at paying $44.95 or essentially $22.48 for each. Another penny pinching way to look at it is that since the second bra would be just $5 instead of say, $39.95, then it comes up to savings of 88%!
Browsing around, I absolutely fell in love with the spectacular convertible strapless bra for $44.95. It's definitely as spectacular as its name boasts it to be as it features molded demi cups partially covered with black lace. A medium-sized black bow ties the entire style together in the middle and judging by the picture, it looks like this bra certainly adds a lot of "oomph" to breasts! ;)
Even better is that it also applies to corsets like the laced back corset for $59.95 but keep in mind that the $5 promotion will only be applicable towards the cheapest item in your cart.
Since shipping is only free on orders over $75, you could also have a look at the rest of the sale section for savings on panties, sleepwear and even select menswear but keep in mind that the promotion mentioned above only applies to regularly-priced bras. To give you an idea, the cheapest bra in the sale section that I found is the Natural Body rose bra on sale for $17.99 (reg. $35.95) but there are a couple more styles to choose from as well. Boxers, for instance, are on sale from $6.99.
(Expiry: 19th October 2014)