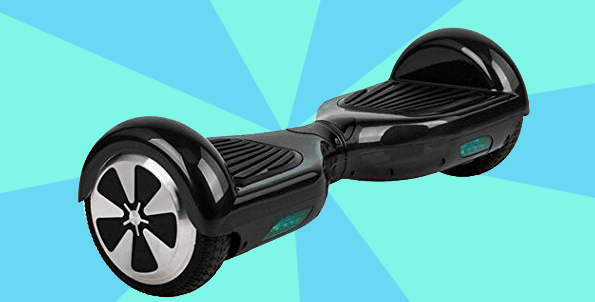 *Bump! These are now available for even less - just in time for Christmas!*
A little while ago, I wrote this article about self-balancing scooters, about the scarcity and where to actually buy them in Canada. Well, since that time, it seems that a few stores have received them in stock and are available to buy now – and Amazon is one of these stores! Just now, they are selling the Kobe self-balancing scooter for only $434.76 $349.99 – and it's in stock and available right now – with free shipping, of course!
This item is sold and shipped by Amazon themselves – not Amazon marketplace sellers. You can choose from different colours, but the black is the lowest price of the lot. There is also blue, red and white, but they're all a few bucks more.
The Amazon site states that this $434 $349.99 price is a 24% discount  38% discount on the regular price of $569. Now, I did see it drop as low as $356 in the past – but at that point it wasn't even in stock and wasn't guaranteed in time for Christmas. Just now though, it's available and will be with you within a couple of days – which is ideal if you need it for a Christmas gift. As I stated in my previous article, there seemed to be a premium price on those stores that actually had these in stock and ready to sell.
That still seems to be the case around the online market in Canada. I can see that various models are being sold for $500+ at most stores, including $540 at Best Buy, $559 at NCIX, $540 at Shop.ca, $550 at The Source. Factoring all this information in, the $434 price from Amazon is really a good deal – considering the demand on these devices. They're still $800 at Chapters and $850 from Toys R Us!
Some of you are probably thinking why on earth would you spend $434+ on something like this… well, I guess if you have a teenager and this is on the top of their Christmas list and you can afford it, then it's going to happen. Two of my teenage nephews are getting these for Christmas this year – I think they're very expensive, but these kids always get what they want. :)
(Expires: unknown)