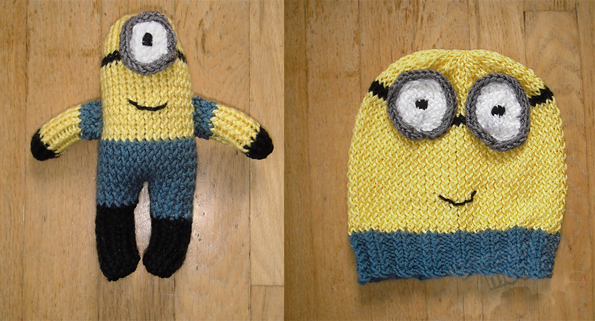 If you're a dab hand with a ball of wool and a couple of needles, you might want to try your hand at this – it's a free knitting pattern for making minion toys and hats!
As you can see from the image above, this is a knitting pattern which enables you to knit the following items:
1 minion hat
1 minion stuffed toy
They look very cool! My daughter would love these.
While Despicable Me was an excellent movie in and of itself, the Minions seemed to be a character set that was actually more popular than the actual movie! I've seen minion merchandise all over the place, and the memes and funny images all over Facebook too. They've even got their own movie! I'll probably have to go to the cinema to see that one… I mean I'll probably have to take my daughter to the cinema to see that one. :D
I really wish I had the patience for knitting again. I was quite adept at it when I was a child, but it fell off the radar. I tried to rekindle my hobby a few years back, thinking that I could sit and watch TV while knitting. But I found that I had to concentrate immensely on what I was doing… so if I was trying to watch something on TV at the same time, it just wasn't possible for my brain to follow the plot too. Never mind the fact that the knitted squares that I was making were lop-sided and wonky…!
How about you? Are you a knitter? Will you use this pattern?
(Expires: Unknown)