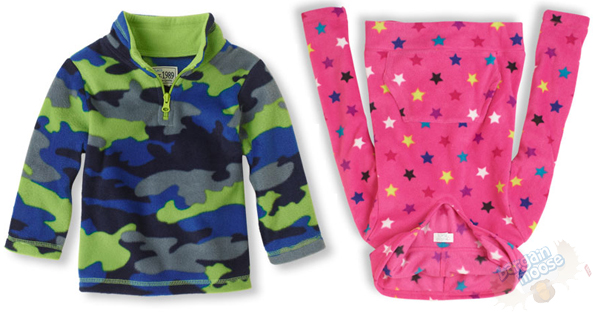 The Children's Place has just sent out an email to say that they have started their Cyber Monday sale early, it's on right NOW. And one of the range items that really caught my eye was a deal on their "glacier fleeces" – they're now down to only $4.99. Plus, what's even sweet is that there is a coupon code for a 20% discount PLUS you will also get free shipping site-wide!
You must use the coupon codeBIGHEROSWEEP20 to get the items at these prices, it gives you an extra 20% discount site-wide! This means that all the kids' fleeces are ONLY $3.99 with free shipping!
Now, when I first got to their site and searched for "glacier fleece," I couldn't actually find anything named that. But, there are a lot of fleeces available such as their microfleece pullovers and tops, and some really funky and interesting colour ranges too. If you click the above link, you'll see many of them – sort by price low to high and then scroll down to see all those in the $4.99 range. Regular prices on these pieces of clothing seem to be in the range of $14.95 to $18.95, so it's a really sweet saving.
Here are a few examples for you to choose from:
There seems to be a really great choice in sizing available, with most sizes still in stock. I am sure this won't last long as people buy up all the hot bargains!
In addition to the fleece tops mentioned above, they also have a lot of fleece pants for the exact same price, some even in matching sets. E.g. You could buy this microfleece pullover and these matching microfleece pants for a total of only $7.98.
My kids grow like weeks and I am constantly buying them new clothing. With sales like this from The Children's Place, it's fantastic to take advantage and stock up on the next few sizes. You'll have lovely, new clothing for your growing children to wear as they stretch, and you'll be taking advantage of super bargains as you do so. IDEA – if you have lots of kids in your family (nephews, nieces, etc), it's a great idea to stock up on this type of thing for pressies too.
(Expiry: unknown)