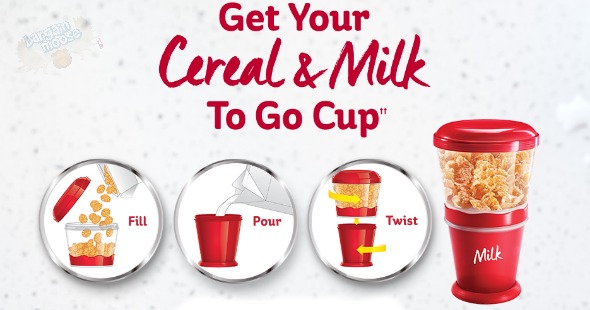 Purchase a specially marked Kellogg's cereal and use the pin code inside to get yourself a free Cereal & Milk To Go Cup. All you will have to pay is shipping, which is $3. 
Breakfast. How many of you honestly have time to sit down and enjoy the most important meal of the day? I work from home and even then I barely take time to eat that meal. I usually grab a bottle of water and a banana, but that is not really good enough. It is a proven fact that eating breakfast can allow you to have a more productive day.
So the first thing that comes to your mind when you think breakfast is probably cereal, right? But how many of us have time to pour a bowl of cereal, sit there, and eat it too? If you're running a little behind, or would rather eat your breakfast at your destination, then why not get your hands on one of these Cereal & Milk To Go Cups. All you have to do is purchase one box of Kellogg's specially marked cereal and enter the pin code when you go to the link above. Then, enter your payment details to pay the $3 shipping charge, and your Cereal & Milk To Go Cup will be on the way. Even with the $3 shipping cost, this is a pretty good price for a cereal to go container. I have seen similar containers that you put in the freezer prior to putting your milk in, as to keep the milk cold. One downfall with those type of containers is that your milk may freeze, yuck.
The participating Kellogg's products include:
Special K Original
Special K Granola
Special K Protein
Special K Red Berries
Special K Vanilla Almond
All-Bran Original
All-Bran Buds
All-Bran Flakes
Vector
As you can tell by the list of participating Kellogg's products, these can be used for more than just cereal. Add some Special K Granola to your yogurt and berries for a delicious addition of fibre to your diet. You can even use this container for lunches I imagine. Put salad in the top, dressing in the bottom or any other ideas you may have.
Once you get your Cereal & Milk To Go Cup, your life will be a little easier. Fill the top of the container with your favourite cereal. My favourite cereal happens to be Lucky Charms. Breakfast is the one time I ignore this whole "adult choices" thing. Then pour your milk in the bottom portion of the container. Twist it tight to prevent leaks, and keep in a cool place until you get to your destination. This offer is only valid until the 31st of October, or while supplies last.
What will you use this Cereal & Milk To Go Cup for, Moosers?
(Expiry: 31st October 2015)