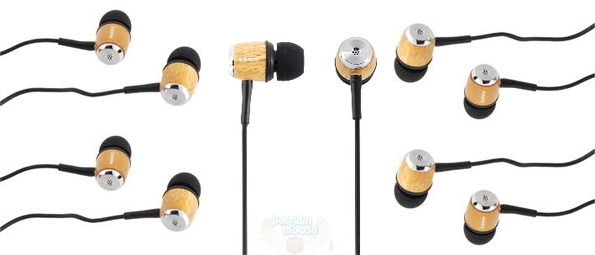 If you've been needing a new set of headphones, check out this deal on some wooden ones! On the US based electronics and accessories site Focalprice.com, you can order a set of these Kanen Wooden In-ear Headphones for only $5.99 with free worldwide shipping.
The headphones were $7.94 and are reduced by 25% for a couple of days only. Even though these come from the US, it's fantastic that they come with free worldwide shipping, and really make it a sweet deal.
Features:
Speaker size: 10mm
Cable length: 1.2m
Frequency response 18-0,000Hz
I've been hearing quite a bit about "wooden" headphones lately. I read somewhere that the wood is particularly good for conducting the sound waves and makes for a really good quality listening experience.
These particular headphones score a rating of 4.5/5 from their 7 reviewers on there.
(Expires: 10th June 2012)