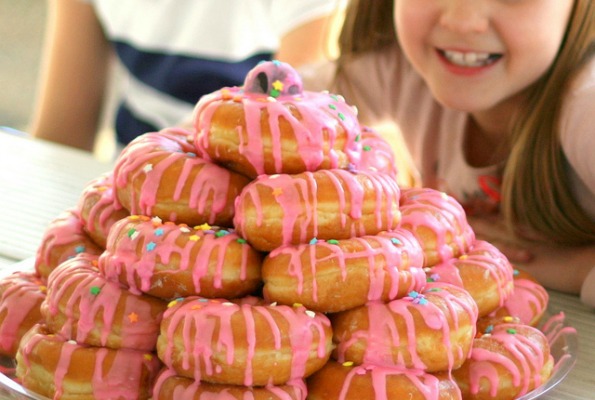 Yum, doughnuts for a crowd!  Check out this fantastic birthday deal at Krispy Kreme that is today only! When you buy one dozen doughnuts of any kind, you can receive a second dozen of the famous original glazed doughnuts for only $.78 cents!
Nom nom nom! Don't mind me, I was just enjoying the picture of the delicious Krispy Kreme doughnut cake there. While there is not a location close to me, you can score an awesome bunch of doughnuts today and make one of those cakes for your very own. Krispy Kreme is celebrating its 78th birthday and inviting all of us to join in the fun. My internet research is telling me that these glazed doughnut dozens usually retail for $7.99 and the assorted dozens retail for $8.99. That means you could have two dozen glazed doughnuts for $8.76. That is only $.37 per doughnut, yahoo!
Now the good news is with this deal you can have a whole variety of doughnuts if you choose. The first dozen you buy could either be a multi-pack or a pack of original glazed. The second pack that is for $.78 only includes the original glazed doughnuts. Either way you are getting quite a mound of doughnuts.
You can find Krispy Kreme doughnuts at several locations across Canada. Here is the current list of cities that have Krispy Kreme locations. Check if there is a location near you!
Quebec:
Quebec City
Greenfield Park
British Columbia:
Ontario:
Toronto Downtown in two locations
Mississauga
My friend's birthday is coming up. If I had a location closer to me, I would consider swinging by and making that birthday cake for her. Alternatively, many kids have soccer and swim meets right now. You could be the hero and show up with doughnuts for everyone. Sharing Krispy Kreme doughnuts will surely make you many friends in the stands.
For the truly daring, you may want to check out this list over at Dine And Ditch. There is a whole slew of pictures of recipes that use Krispy Kreme Doughnuts on this blogger's post. Alternatively, if you have some leftover the next day, my old roommate swore they were delicious after putting them in a waffle iron. These doughnuts are best when they are warm, so I bet it is delicious!
Image Credit: Bunches and Bits {Karina}
(Expiry: 10th July 2015)