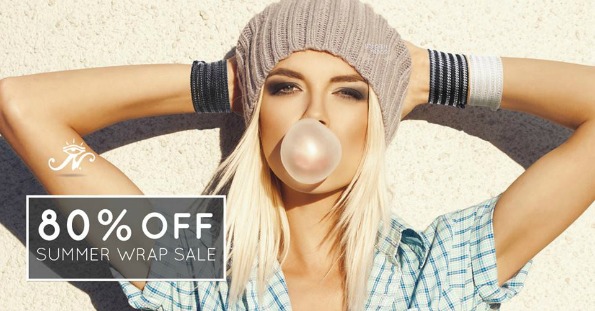 Joseph Nogucci has some hot sales going on right now and one that I found really hot was that all the wrap bracelets are now only $16, with a regular price of $80. They'll also ship for free!
The wrap bracelets are really cool and I'm thinking of getting one for myself and a few as gifts. Made of genuine leather and hand woven, they also hold semi-precious stones. I think they look bold but feminine. There are quite a few styles to choose from but my favourites include the Scorpio, which is black leather with silverstone. I also love the Neo - leather earth stone wrap. I see on their site that these bracelets also look great stacked with each other, which you could totally do now that you are only paying $16 a bracelet and not $80.
I noticed that they also have another deal to go along with this deal, where if you buy a few items, you'll get free bracelets. For example, if you buy one item, you'll get the carissimi bracelet free. If you buy any five items, you'll get the carissimi bracelet, a stone anchor and a hive crystal kikiballa all free. There are a few of these deals depending on how much you buy.
If you are getting married, this might be the time to get your bridesmaid gifts. If you bought ten of the bracelets above as gifts (two for each bridesmaid if you have five bridesmaids), you'd spend $160, but you'd also get five free items, which you could keep for yourself or give to your mother, mother in law or other important women in your life. It will look like you spent a small fortune, but you'll know you didn't.
You might also want to check out 30% off the summer collection and 30% off summer charms.
I have a friend who has a Joseph Nogucci bracelet and it is stunning. Hers is one that you actually can't get online yet, but I really loved the beading and how it stood out on her arm.
(Expiry: unknown)