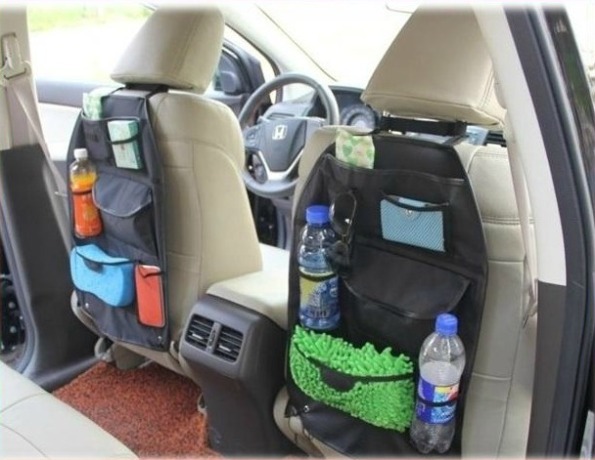 Oh. my. gosh. Before I became a mom I was obsessed with keeping my car clean and smelling good. Then I had a child, and discovered that between the toys, bottles, and diapers that it was just impossible to keep my car clean and organized. Thankfully I picked up a Back Seat Organizer and that solved a lot of my problem. Unfortunately that doesn't take care of the crushed cheerios and what not, but it helps with the spontaneous items needed to take care of a child. Lucky for you, I found this Jolly Jumper Back Seat Organizer that is just $9.09, which seems like a steal of a deal considering other brands and retailers will charge you up to $40 for one of these suckers.
So the regular price of this Jolly Jumper Back Seat Organizer was $12.99, but until November 11th it is discounted to just $9.09. Hey, every penny counts when it comes close to Christmas and this is definitely an item I suggest for every parent. It measures about 6.25 inches x 9.5 inches. It only sticks out about 1.75 inches from the back of your car seat too, which is nice.
The Jolly Jumper Back Seat Organizer will attach to the back of the driver or passenger front seat. It is conveniently located and will come in handy to store all sorts of things that don't have a designated spot in your vehicle. It even has a pocket that features a velcro closure for keeping items that are a little private out of plain site. Say maybe tampons or breast pads? Nobody wants to flaunt those - right? This Jolly Jumper Back Seat Organizer has lots of storage pockets and such. It is also super easy to wipe clean when you want to freshen up. Because you know darn well your kids are going to put their dirty feet allover it, like all kids do.
While this handy item is not even close to the minimum spend threshold required for free shipping from Sears.ca, it does still qualify to be shipped to a Sears location for free. Of course it has to be a participating Sears Canada store, but there are plenty!
Moosers, would this help keep your car a little tidier?
(Expiry: Unknown)