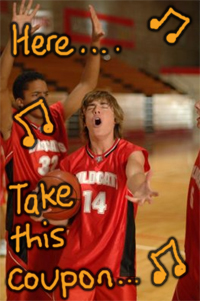 The Joe Fresh Style stores have produced this excellent printable coupon for discounted deals on Joe Fresh clothing in-store.
Click me for the free printable coupon for Joe Fresh Clothing Discounts
Click me for the store locator for Joe Fresh Canada.
These free coupons will expire on the 28th of June 2009, so you have loads of time left to make use of them! $17 off $60 is quite a nice discount – that equals a 28% reduction! For the multi-lingual folks, they have provided the coupon in both French and English. Merci beaucoup!
Apparently the coupon has something to do with Zac Efron, who is 17 again. I had to google him, I had no idea who he was. Apparently, he's the dude from High School Musical. No wonder I don't know who he is, I've never seen it or any of its subsequent cinematic offerings! Do you or your kids like the movie?