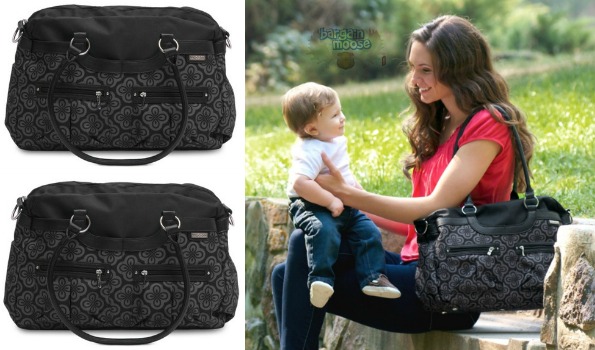 Well.ca has a great price on the JJ Cole Satchel diaper bag on sale right now. This bag was $90 but is now only $53.99. Free shipping is included in all orders over $25 at Well.ca and this item qualifies. Many more items are on sale up to 75% in their Warehouse Spring Blowout.
The first diaper bag I used with my daughter was a JJ Cole bag. I was impressed with the quality and durability. As a new parent, I stuffed that bag way too full on a daily basis. My JJ Cole bag held up to regular tossing, dropping and other abuse from both my husband and I for over a year before the lining eventually gave way and ripped.  We put that bag through a full durability test.
This Charcoal Infinity version should stand up equally well to the daily wear and tear that any parent puts on a diaper bag. I like the print on this bag, having a little bit of a pattern helps keep your bag looking fresh. This bag has seven exterior pockets and four interior pockets. It also includes a bottle pocket, which also works as a sippy cup pocket or a water bottle pocket. Inside the bag is a diaper changing pad, straps to attach it to your stroller and a shoulder strap that is detachable.
Looking at the competition, this deal is spot on at Well.ca. If you were to purchase this from Babyrama Canada you will pay $69.99. You could pay $79.99 for this same diaper bag at Bed Bath and Beyond Canada. For the same bag at Amazon.ca you will pay $83.78. Your best bet is to buy this at Well.ca.
No reviews are on Well.ca for this bag. Over at Amazon, buyers seem very happy including this reviewer who can fit enough supplies for two kids in this bag.
I did find some other deals at the Well.ca sale. Standard shipping at Well.ca is $5.95, which means it is much better to buy these smaller items as part of a larger order that totals $25 or more and qualify for free shipping. The good news is if you are buying the diaper bag, these low priced items are great to throw in your bag as the cherry on top.
This deal is set to last through the weekend, but the stock looks limited. You may want to grab your deals before the stock is gone.
(Expiry: 15th March 2015)