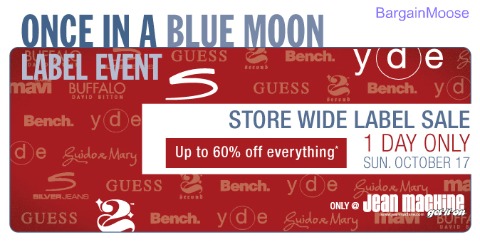 Jean Machine - our Ontario denim store is having their 'once in a blue moon' Label Event where they are selling popular labels for up to 60% off! This is a one day only sale, Sunday October 17, 2010!
The website says:
EVERY LABEL IS ON SALE FOR ONE DAY ONLY. For one day only, it's the Jean Machine Once In A Blue Moon Sale where everything in the store will be on sale. On Sunday October 17, 2010, at all Jean Machine locations get all these labels on sale: MAVI JEANS, SILVER JEANS, GUESS, BENCH., JACK & JONES, YDE, BUFFALO, GUIDO & MARY and so so many more.
Jean Machine is a popular denim store in Ontario so we like to post about them every once in a while when they have really good deals. It is very region specific I guess, but we are hoping they expand one day!
Don't forget your SPC card!