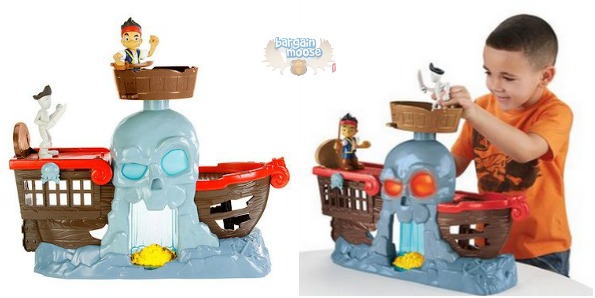 If you have a young child, then you are probably familiar with the popular Disney Jr. TV show Jake and The Never Land Pirates. Right now, you can grab Jake's Battle at Shipwreck Falls Playset that was $64.99 for only $22.50. Free shipping is available when you spend a minimum of only $25.
With summer in full swing, I seem to be suddenly swimming in summertime birthday parties. As a parent, I am knee deep in the toy aisle trying to figure out what gift my pre-schooler should bring. Yesterday my husband came home from the store with two Jake playsets, but now I wish he had waited.
Over at Amazon Canada I found this fantastic Jake and The Neverland Pirate's Playset. Jake is popular with many pre-schoolers these days and my daughter is no exception. This playset is Jake the Pirate's Battle at Shipwreck Falls and includes a Jake figurine and a mummy figurine that Jake can dual. The eyes on the skull light up and you can turn the crows next for more light up action. If you turn the waterfall, there is a secret hidden treasure and there is a secret trapdoor. This set has two separate areas that are perfect for battling, and many features and sounds that add to the fun.
This playset is significantly cheaper at Amazon Canada right now. If you were to pick this same playset up at Walmart Canada, you will pay $47.87. Over at Toys R Us Canadathis same playset costs $54.98. I will be ordering this at Amazon Canada myself.
The reviews on Amazon Canada all seem very positive for this playset. One reviewer mentioned that you place Jake and the pirate on pegs with this playset and can battle them similar to the classic Rock 'em Sock 'em Robots which sounds like a blast. A reviewer on Walmart Canada's site mentioned liking the set overall, but that their child was disappointed because the set includes only half a boat. Like many playsets, the boat is cut away in the back. This allows you so to manipulate Jake and the Mummy and have them battle each other both above and below deck.
Shipping is free with a minimum order of $25, or if you have Amazon Prime you'll get free shipping. I would suggest adding a Wild Republic Zoo Builders Truck to your order. The Zebra version was originally $12.99 but is now $4.65. The Tiger version was $12.99 but is now $5.99. Both of these toys are less expensive than the $8.75 shipping costs you would pay for the pirate set alone, and either truck would round our your gift or get you started for an entirely separate gift.
This playset has many features the make it quite fun. I think the two boys I have in mind would both love receiving this pirate ship for their birthday. My daughter also has a pirate ship she loves to play with, or I would consider stashing this away for her also.
(Expiry: Unknown)