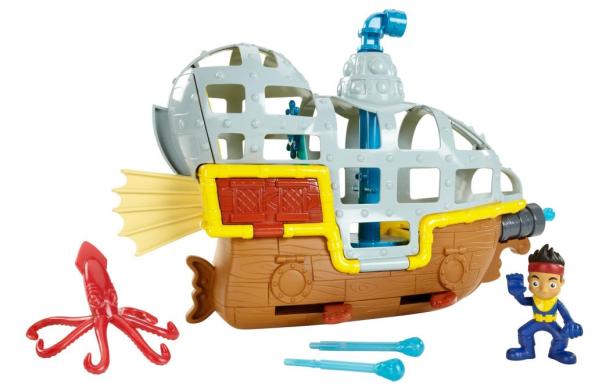 All I can think about when shopping online is Christmas. Christmas is not far away, and the kids always want the newest and most trendy items right? On our Facebook page, some of you said that your kiddos were wanting Jake and the Never Land Pirates toys, so here you have it. Right now Walmart.ca has the Fisher Price Disney Jake and the Never Land Pirates Submarine Bucky's Never Sea Adventure on clearance sale from $24.86 down to just $12. Spend $50 to get free shipping.
Now your kids can play with Jake's magical Bucky pirate ship. This ship will cost you just $12 instead of the original price which was $24.86. The Fisher Price Disney Jake and the Never Land Pirates Submarine has many features to amuse the kiddos as well. From transforming the ship into a submarine to helping Jake and his crew complete their treasure hunts, this ship is sure to keep your little ones entertained for quite a while.
The Fisher Price Disney Jake and the Never Land Pirates Submarine plays well with the other Jake and the Never Land pirate toys by Fisher Price. A lot of them appear to be on clearance sale right now, so be sure to check that out if your kid loves to play with these toys or loves to watch this show. This item holds a 5 star rating even with a whopping 18 reviews, so that has to tell you something. Customers say that the toy is surprisingly sturdy and stores easily. I know my son has one of the larger Jake and the Never Land Pirate ships and he plays with it daily. It has held up extremely well considering we brought it with us when we traveled from Ontario to New Brunswick. I have nothing but good things to say about that toy.
Walmart.ca unfortunately no longer has free shipping with no minimum. Now they will ship to your door for free if you spend $50 or more. That won't be hard since Christmas is almost here and the clearance prices at Walmart.ca never cease to amaze me. If you can't find anything else to buy, there are two other free shipping options as well. You can have your purchase shipped to your local Canada Post Office for totally free, or if your closest Walmart Canada location has the Grab & Go lockers then that is a free option as well.
(Expiry: Unknown)