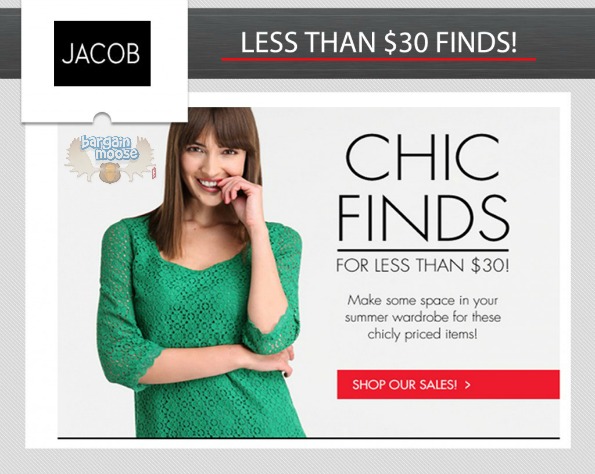 Jacob Canada has items for "Chics" on sale that are less than $30.  Shop online or in-store.   Sale is valid for a limited time only while quantities last.
There are hundreds of items in this sale, I must've spent an hour going through them.  I found many things I like, but there just isn't enough room here to list them all.
This Lace Floral Pattern Blouse that was $49 and is now $20.99 was one of the top items in my list.  This has such a beautiful slender look to it, with a button front.  The back is solid, but the front is lace, so I suppose a little something is required underneath.
Another favorite is this Leaf Print Blouse that was $49 and is now $17.99.  I love the slender fit sleeveless blouses, they are so comfy in the summer.  This is only available in the pink colour and only size large left.
I found this great deal, these Flared Slim Fit Denim jeanswere $69 and are now just $17.99.  It's not often you find a good pair of jeans for under $20.  These are slim through the hip and thigh and have 5 pocket styling.  There are still many sizes available.
The skirts on sale had many different styles, but I really like this Slender Pencil Skirt that was $69 and is now $23.99.  These skirts go so well with any kind of shoes, even boots.  There are a few sizes left and 2 colours to choose from.
I did find items that were over $30 as I looked further, but still pretty good deals.  They seem to be moving quickly as there are not many sizes or colours left in some items, so don't wait too long.
Shipping:  Free on orders over $100.
(Expiry: Limited time only)