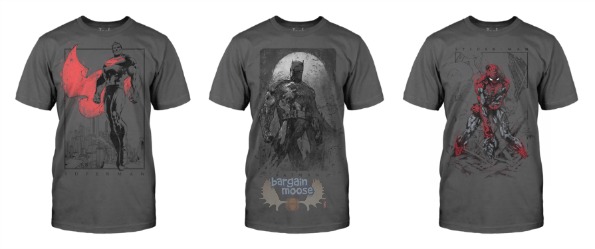 There is a brand new product line being offered at Jack of all Trades and with it, a great sale.  This new line is called the Extreme Art Clothing Line and it has a variety of dark graphic images on them pertaining to super heroes.  They are quite cool actually. The regular price of them all is $32 but they are sale for a limited time only for just $28 each.
Saving $4 per shirt does not seem like a lot, but you will have to keep in mind, these shirts are new arrivals and a totally new line at Jack of all Trades.  It is very unusual for a company to discount a new line of items when they are first releasing them.  That is what makes this sale unique and good.
With this sale, they are featuring three new tees.  These tees are a way for us adults to unleash our inner super hero in a cool way instead of a cartoonish type kiddy shirt.
The first one is the Batman tee.  It is dark grey with a very dark full length picture of Batman on the front of it and the bat symbol on the back of it. They have included a variety of amazing printing techniques for this tee to give it some cool effects.
The second deal is the Spiderman tee. Parts of the paint splatters on this tee have been printed with puff ink to mimic the effect of actual paint being splattered on the shirt.  It is a pretty cool effect.  It has the full length Spiderman on the front and the spider symbol on the back of it.
Lastly, there is a Superman tee.  The red Superman logo on the front print is printed with distressed shimmer ink. it also has the use of the puffy paint to add cool effects to it.  It has a dark and mysterious Superman on the front and his symbol on the back just like the others.
All of the shirts come in sizes small to extra large and they are all super soft, comfortable, and made from 100% pure cotton.
There are two choices for the cost of shipping.  You can get free shipping when you send $60 or more or if you are spending less than that, you will only have to pay a flat rate shipping fee of $5.  Either way, free or just $5 is not bad at all.
(Expiry: Unknown)