Let's get you some juicy coupons for some discounts on various Cold-FX products! There are currently 2 active coupons for this product.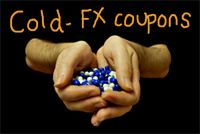 They expire on the 30th April 2009.
Now, some grocery stores and drugstores only accept one coupon per product, in which case it would be best to use the $4 discount coupon. BUT some other stores let you stack coupons on one product, as long as the coupons have different bar codes. London Drugs is one such store! Print out both of these free coupons, and you could possibly score yourself a $6 discount on Cold-FX!
Remember, if you'd like some Cold-FX freebie, or the chance to win a sunny vacation, check out this blog post.
Thanks brotherxii.