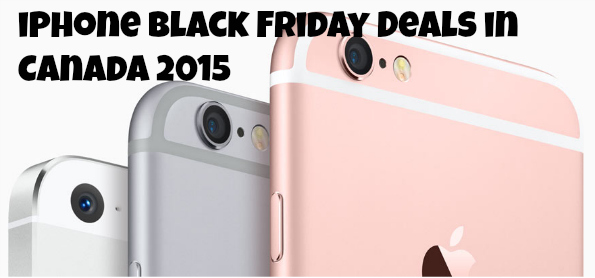 Are you searching for a new iPhone this Black Friday? You will find most iPhone deals in store this holiday season, but here is a quick and dirty guide to finding the best deals.
Buying on Contract
Best Buy may be the best choice for a new iPhone, especially if you are in the mood for the new iPhone 6. They have the iPhone 6 marked down to just $79.99 on a two-year agreement with either Telus or Bell. If you trade in another phone worth $50 or more, they will apply that $50 trade-in credit to bring the phone down to just $29.99 on a two-year contract (16 GB model).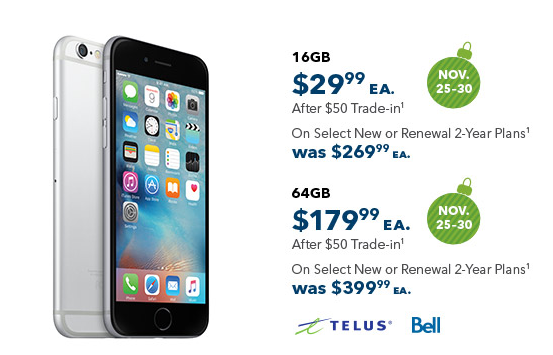 The 64GB iPhone 6 will run your $179.99 after trade-in. This deal is only available until the 30th of November and is hotter than anything else I have seen.
If you are in the market for a brand new iPhone 5, 5s, or 5c - then you are in luck as you can pick one up for $0.00 on a two-year contract with a number of carriers. I suggest Koodo or Virgin as they tend to have cheaper plans than the big boys.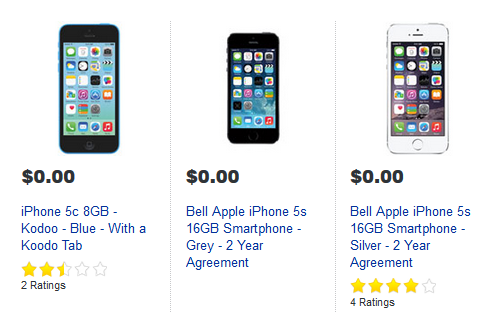 Buying Outright
I am a huge fan of buying a new phone outright because you (usually) will get the best deals as you can get lower cost-per-month plans. If you want to buy a new iPhone outright, here are a few deals for you.
We do not know if Apple Canada is going to do a Black Friday or Cyber Monday sale this year - they always keep things pretty tight to the breast. However, if you are looking for a new unlocked iPhone, you can always pick one up there. For the base 16GB iPhone 5s they are asking $599.
eBay Canada is a far better choice for buying outright. Here you can save some extra money on unlocked iPhones and then choose your own carrier. I found the following deals:
All of these phones receive free shipping. They are coming in from overseas, so you could get hit with duty. FYI. They are from a top-rated seller with 99.5% positive feedback. For the iPhone 6, you have some options as well. This NEW Apple iPhone 6 64GB GOLD FACTORY UNLOCKED & APPLE WARRANTY is just $750. That same phone is $899 at Apple Canada. There are some real benefits to shopping on eBay Canada this holiday season.
Buying Used
- Wind Mobile
If a gently used phone is fine, then I recommend the current deal at Wind Mobile. Both the iPhone 5s and the iPhone 5c are on sale for $0 when you get hooked up with a Wind Tab - DON'T DO IT. Look, that Wind tab adds an extra $25 to your bill until the full value of $499 is paid off. What you want to do is get the "$399 on WINDtab". The extra $100 is automatically given to you with any cell phone plan of $25 or more. Therefore, you are getting this gently used iPhone 5 for $400. Just remain with Wind until the extra $100 - which you do not pay separately for - is paid off.

- Expansys (new/used/b-grade)
A friend of mine just purchased his Google Nexus 6 from here, and it was in perfect condition and works well. Exansys.ca is one of the cheapest places I have found to buy iPhones right now. Here are a few examples:
Apple iPhone 5C Smartphone A1532 (8GB, Blue, Unlocked, B-Stock, Generic Box)- $213.27 + shipping
Apple iPhone 6 A1549 B-Stock (Generic Box, Unlocked, 16GB, White)- $640.12 + shipping
Apple iPhone 6 Plus B-Stock (Generic Box, Unlocked, 16GB, Gold) - $693.47 + shipping
A lot of these are 'B-stock' meaning they have some cosmetic damage or may be missing accessories. They do have a six-month warranty period AND accept returns so this is a low-risk endeavour.
While looking for iPhone deals, I would also watch your favourite carriers. Fido, Wind, Telus, Bell, etc. might have deals on their website (not yet, but maybe) that are worth picking up.
(Expiry: Unknown)